Scene One: Work is Boring
Valentina really wants to go shopping this afternoon, but she is a little short on cash! She eagerly asks her dad to borrow his credit card so she can buy a few things at the mall. He quickly shuts her down and says "NO!" Valentina just won't take no for an answer, though! She pulls her shirt off and pulls her panties to the side; Then she sits on top of her dad's desk. Luke turns around and he is shocked at what his daughter is doing! However, this easily convinces him to want to give in to his daughter's wishes. His cock has gotten really hard, so he takes his cock and shoves it in his daughter's pussy. He ends up bending her over the desk so he can fuck her in the doggy style position next. Her big ass bounces up and down on his hard cock, while she moans "daddy, fuck me!" He flips her back over on to her back and fucks her pussy some more. He ends up cumming deep inside her pussy, so hopefully Valentina is on birth control! "Now let's get you that credit card…" he exclaims.
Scene Two: Mom is Curious
Valentina is dying for a new car! Unfortunately, she doesn't have the money to buy one. She begs her daddy to buy her a car but he says no! She starts to rub her big tits on his shoulder. "That isn't going to make me buy you a car!" he exclaims. "Then what will convince you??" she asks. She offers to suck his dick, but he tells her that her mom is in the shower and will be out any minute! Valentina ducks her head down under the kitchen counter and pulls her dad's cock out of his shorts. She starts to secretly suck his dick, while her mother walks in to the kitchen! She keeps complaining to Luke about how loud the plumbing is, because she doesn't realize that those loud sucking noises are coming from her daughters mouth! When Cory goes off to the gym, Valentina jumps up so her daddy can fuck her pussy next. "I can't wait to drive my brand new Mercedes!" she moans, while he fucks her from behind. He flips her over on the chair so he can fuck her in the missionary position next. "Tell me that you'll get me the new car, otherwise I'm going to tell mommy right now!" she tells him. He continues to fuck her pussy until he cums deep inside of her. "Now lets go get you that car!" he says…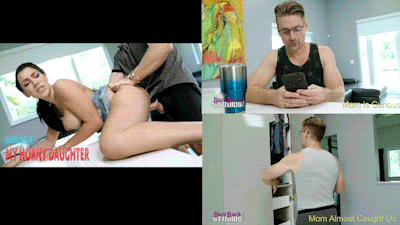 Scene Three: Mom Almost Caught Us
Luke is searching through his closet, looking for some clothes to wear. "I need new clothes!" he exclaims. Valentina walks up behind him and says "I need new clothes too!" Even though she just used his credit card at the mall the other day, she claims that she has a new job and she needs clothes for work! She tells her daddy that she loves him and wants to have a little more fun with him, before mom gets home. They go to his bedroom and Luke starts to eat his daughter's pussy out. "I just wanted you to fuck me!" she giggles. He goes to fuck her pussy in the missionary position first. "You're never going to stop fucking my pussy, otherwise I'm going to tell mom!" she tells him. She licks one of her own nipples while he licks the other one. He flips her over in to the doggy style position next. "Oh, yes, daddy! Just like that!" Valentina moans. She shakes her ass back and forth on her daddy's cock while he fucks her pussy. She sucks his cock for a bit, before he fucks her in the missionary position again. "If you want me to give you my credit card, you have to let me cum on your face!" he tells his daughter. "I want daddy's cum all over my face!" she tells him. He pulls out of her pussy, and jerks his cock off on her face and in her mouth. Right after he finishes, he see's his wife walking up the driveway. Valentina hides by the side of the bed, as Luke distracts his wife so Valentina can sneak out of the room…
Category: TABOO
Related Categories: BIG TITS, FUCKING, CUMSHOTS.
Keywords: valentina jewels, luke longly, cory chase, taboo, blowjob, milf, beat cop, big tits, fucking, cum swallow, cum shot, daughter, facial, daddy daughter.



Add to favorites