WHEN LEXY GETS BABY FEVER…SHE IS DETERMINED TO GET PREGNANT…AT ANY COST!!!
WHEN HER BOYFRIEND FAILS….TIME AFTER TIME….
SHE COERCES HER BROTHER JOSH INTO IMPREGNATING HER!!!!
Lexy has caught a Fever….Baby Fever!!! She desperately wants to have a Baby, and she and her boyfriend have been humping each other like rabbits….trying to get her pregnant. Unfortunately…..Lexy has received nothing but bad news from the home pregnancy test. At her wit's end….Lexy is about to take drastic measures!! Lexy asks her Brother Josh to "help" her get pregnant…by being her "sperm donor". Josh points out that no clinic would impregnate her with his sperm….since they are Brother and Sister. Lexy has an answer all ready for him…."Of course a clinic won't do it silly…..we would have to do it the "old fashioned way"". Before Josh can even mount a protest…Lexy yanks down his pants and takes his cock into her mouth. With Lexy's hot lips and tongue pleasuring his cock….Josh's sense of right and wrong vanishes pretty quickly!! Lexy sucks his cock to full attention, and then asks him if he would like to lick her cunt. Josh answers affirmatively…..and starts to lick his Sister's pussy. After a few moments…Lexy gets over anxious and demands him to "Stick your Baby maker in me!!!". Josh climbs on top of his Sister and starts to hump her. Lexy asks him as he pumps away…."did you Jerk-Off today?….I hope not……I hope you are FULL of Baby Batter!!!". Josh pounds his Baby crazy Sister until he delivers the goods…..a cunt full of active swimmers!!!! Lexy makes sure that all the Baby Batter goes inside her wet pussy…..and turns to her home pregnancy test…."I hope you have some good news for me this time…..".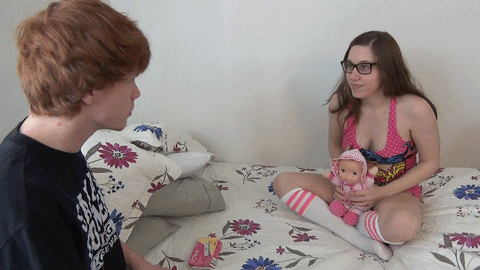 Category: TABOO
Related Categories: TABOO, FUCKING, SISTERS, IMPREGNATION FANTASY, 18 & 19 YRS OLD
Keywords: sisters, siblings, little sisters, family sex, brother sister sex, taboo, fucking, 18 years old, brunettes, pussy eating, petite, fantasies, blowjobs, creampie


Add to favorites