This is a siterip of the fairly new site SlaveMouth.com. You will see scenes where girls are getting brutally facefucked, forced down on knees to rim their masters. If they don't follow their orders they will get punished. Under is a few examples on the on-site descriptions of the scenes: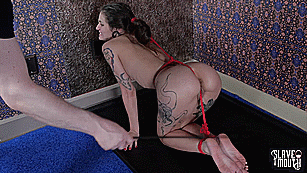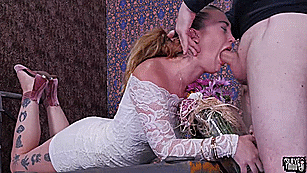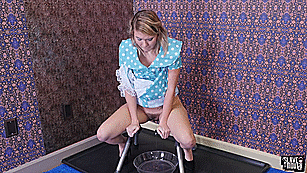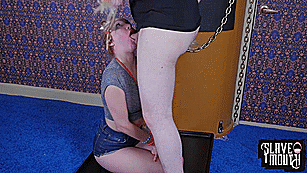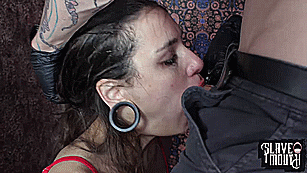 Slavemouth.com exists for two reasons. First, we strive to combine hardcore oral sex and BDSM into a single entertainment package for people who enjoy watching both of these activities. We also strive to provide entertainment that captures authentic moments between performers and that provides an intense, exhilarating, one-of-a-kind experience. We work hard not to repeat ourselves or to copy anybody else so that you, the viewer, feel good about maintaining a membership to our site.
Like our sister site, Assylum®, we also aim to expand the usual porn-viewing experience with educational and social insights from the performers. At Slavemouth.com, the performers don't just use their bodies, they use their brains. We talk to them about what it's like filming the scenes and what BDSM and other fetish activities mean to them in their everyday lives, and we aim to clarify some of the myths and preconceptions surrounding these activities.
We strongly believe that the consensual exploration of sexual fantasy—even the darker, sadomasochistic kind—among adults is key to personal happiness and that personal happiness is key to societal harmony. As lovers of BDSM and fetish activities ourselves, we know that even the most sadistic expression of sexual fantasy does not prevent people from being good human beings in everyday life, and we look forward to a day when people everywhere can enjoy their sexuality without shame.
Ream my mouth clean with Olivia Kasady
Olivia has a filthy mouth. She knows this so well, she suggested that Master Mercies gag her with a bar of soap. He kindly obliged, before fucking her face with her soap slop and making her tongue clean his ass. Then he blew a big load of cum on her face–kind of a double load, actually–and left her to get herself off.
Tongue Control with Jessica Kay
Dr. Mercies worked hard to use Jessica's ass and brain at the Assylum. So later, at his harem, he makes Jessica thank him for his effort. She gets down on her knees and worships his feet. Then he has her pull out his shoelaces, and he ties her tongue with them. Then he binds her arms with his pants, fucks her face, and feeds her his ass. Finally, he pulls her tongue out with forceps and cums all over it. It was a perfect, spontaneous session.
Mouth maid with Eden Sin
Eden Sin is one of the hottest, most depraved submissives to enter our harem. Today, she gives up her mouth to clean the room and to clean whatever part of Master Mercies' body he desires to be serviced. Needless to say, this session gets very filthy. There's lots of spit and slop. Eden even sucks a long string of anal beads out of Master Mercies' ass over and over again to help him feel fresh inside. In the end, he cums in her eyes and makes her scrub her tongue with his seed.
Use Me, Lose Me with Luna Lovely
Master Owen Gray plays a game with poor, sweet Luna: cock or dildo. She has to choose, and there's really no good choice. Insult Master Gray by rejecting his cock, or suffer by asking for it. Aw well. He used her mouth like a toy, let out some tension, and then left. Wonderfully, that happens to be just the kind of thing submissive little Luna enjoys.
A Used Little Cum Toy with Anneliese Snow
Sweet Little Anneliese is a very obedient little pleaser. So she entertains Dr. Mercies by playing with his cum in all sorts of nasty ways for a long time. He fills her mouth with a bunch of frozen loads, then seals it shut with plastic wrap, making a little window so he can see the cum sloshing around inside her mouth. Then he has her drool it from one of his feet to the other, over and over. Of course, he gives her a good gagging too before blowing a fresh load into her pretty mouth.
Cum Bouquet with Kat Monroe
Kat got pretty ugly during her treatment at the Assylum, so Master Mercies decided to be kind to her at his harem and make her pretty and colorful. He brought her a lovely bouquet of flowers and pasted the petals to her face with cum and spit. She came out lovely indeed.
2017.10.20 Jessica Kay – Weepover.mp4
2017.11.18 Luna Lovely – Cry in my Ass.mp4
2017.09.21 Anneliese Snow – Worship the Cock.mp4
2017.10.27 Audrey Holiday – Face-fuck Wedgie Slave.mp4
2017.09.27 Anneliese Snow – A Used Little Cum Toy.mp4
2017.12.27 Olivia Kasady – Ream my mouth clean.mp4
2017.11.11 Luna Lovely – Use Me, Lose Me.mp4
2017.11.05 Anastasia Rose – Mouth Lessons.mp4
2017.10.11 Desiree Lopez – Discipline my Tongue.mp4
2017.12.13 Jessica Kay – Tongue Control.mp4
2017.08.31 Violet Sky – Ice Pops and a Warm Treat.mp4
2017.09.14 Felicity Feline – Punish my Mouth.mp4
2017.11.25 Eden Sin – Mouth Maid.mp4
2017.10.04 Kat Monroe – Cum Bouquet.mp4
2017.09.07 Anastasia Rose – Degrade my 19 Year-Old Mouth.mp4
2017.12.04 Jessica Kay and Ms. Holl – Facefuck Virgin.mp4


Add to favorites