He was surprised when his sister showed up. He had not seen her in months. She travels all over the world, doing unspecified work. They hugged and reminisced before getting down to business–the business of lovin'. Yup what they had as sibling was a spark that just kept burning.
When it was over, he was tired, like he always was after a good love-making session and collapsed on the bed–his sister retiring to the sofa to give her brother uninterrupted sleep.
She knew he would go out fast–he always had. And that was the plan and exactly why she volunteered for this job when new swept the web about his startup, and the code that would make any corporate webpire pay billions for his little company.
Her job, get that code. Research showed that he always took the data home with him. She searched his place. After a few minutes of finding nothing amid her brothers bachelor clutter, she found it. A hard drive full of secrets.
She was just about ready to leave when he came up behind her, snatched the drive and told her what he thought of her before wrapping her pantyhose around her.
The strangle was intense, They dropped into the sofa, then down to the floor. Her legs kicking wildly and like the fiery redhead she was, she put up a fierce battle.
But he was mad, and killing her was what he had to do. They flopped on the floor, her body and legs twisting this way and that. The garrote digging into her throat, her face red, tongue and eyes expanding outward. And she was a fighter, arms swinging, clawing pushing, whatever she could do. She would not go down like this.
But she would. The fighting slowed, her body spasmed, and eventually, her face was still–eyes and mouth open. She looked so pretty and he will miss their occasional relationship. He did not think having her one more time would be an issue–at least not for her.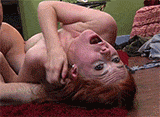 He scooped her up, laid her on the bed, and fucked her beckoning, wet, gaping mouth hole. After a while of that, he had her hanging off the edge of the bed and was pounding her corpse deep as her limp head banged on the floor.
When he was finished, he laid beside her and though the earpiece he was wearing all along, he told them—it was done. He was not a sell out. He would be rewarded for her death, certainly, but in his mind, it was just, self-protection. The advance warning from her firm, however, was nice. It is too bad his sister had stepped on one to many toes in her rise through the ranks. Be he always knew, she would fuck over and fuck anyone to get ahead–including her own brother.
Fetish Elements: Violence, Nudity, Explicit Sexual Content, Consensual Sex Scene Montage (2 min), Espionage, Intense Garrote Strangle, Pantyhose, Necro BJ, Necro Sex.


Add to favorites