Includes: Sneaky sister gets caught masturbating, sweet sister manipulates brother into fucking her, cream pie
Your sweet, yet slighting inconsiderate sister barges in your shared bedroom when you are sleeping. She plops down on the bed, and sighs heavily, you know she wants to have one of her usual long chats at night, and you are just wanting to go to bed. You clutch your covers over your face and hopes she gets the hint. "Brother, hey.. I wanna ask you something?" You roll over, hoping to just get it over with. She wants to know all about your handsome friend, and what kind of girl he is into. You roll your eyes, and try to end the conversation abruptly. It figures that every girl in school would be into your best buddy, and now your own sister is crushing on him.
You hear her undressing, getting into bed, she sighs heavily again, the sound of the blankets ruffling is unusual for her. She usually falls asleep quickly and deeply. You hear soft breaths, little muffled moans, more ruffling. Your body stiffens wondering if she is masturbating, but no.. she would not do that with you in the room, you try to breathe shallow, so you can hear her more clearly. You hear her little fingers going into her wet, little pussy, the sounds of moisture, rubbing, breathing, and blankets moving around. You can control yourself, you look over.
She doesn't see you at first, she is grinding her hips on her hand, her head tilted up, her eyes dreamy, her mouth softly moaning. She then glances at you, pulls the covers up in modesty. "Hey.." she says innocently, "how long have you been awake?" You don't answer. "Well, go to bed, I was just having a bad dream."
She curls into a ball, you know she is mortified. You are embarrassed for watching, but your dick is so hard. You stroke your dick under the covers. You hear her get up. She has a blanket wrapped around her. "What would you say if we just pretended like we did when we were little ones. You be your friend, and well.. I'll be me." You are more than happy to comply.
She walks you through how she wants to be touched. She takes off your underwear. You fuck her on her back, on all fours, she is so wet. You cum in her pussy, she reaches her hand down and rubs it inside of her. She wants your fingers inside of her. You finger her until she cums again.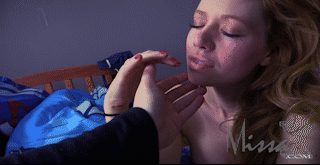 Category: TABOO
Related Categories: POV, CREAMPIE, ORAL SEX, FUCKING


Add to favorites