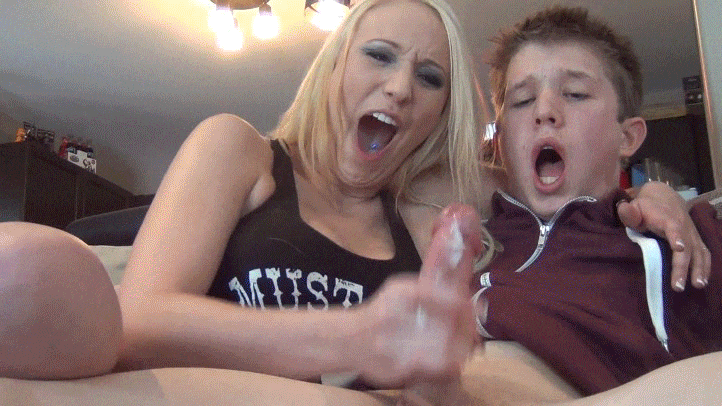 Squirtfest 01/12/2014
It's a rainy day…their Parents are away….and Shauna and Her Baby Brother, Josh are fighting over the remote (as usual)…..bickering about what to watch on TV. Shauna wins, of course…not only is She the oldest Sibling…She's a Girl (and we ALWAYS win!!! lol). As it turns out, Shauna can't find anything decent on TV, so She confesses to Her Brother that…it's Her "horny time of the month"….and She suggests that, even though they are Brother/Sister…that they….in Shauna's words….."Jerk each other Off!!" Josh has no interest in mutual masturbation with his bratty Sister…but Shauna knows a secret about Josh…and She's going to take advantage of it…."Hey Booger-Head….I've seen you around the house, checking out my Feet. I'll let you suck my feet, if you'll agree to Jerk each other off". Josh is roped in….he really does want to kiss his Sister's Hot Feet…so he agrees. Shauna lets her Baby Brother suck on Her Feet for a few minutes…and then She proclaims "Ok enough of kissing my Feet….let's Jerk each other Off…I go first because I'm a Girl". Shauna gets Her Baby Brother to play with Her Clit….then She makes Her baby Brother go down on Her and eat Her Pussy until She cums!!! After cumming, however…Shauna has a surprise in store for Her Brother…She grabs Her Vibrator and says "Watch this Bro….my friend Emily showed me how to do this…" With Her Brother watching intently…Shauna brings Herself to a MASSIVE MASSIVE SQUIRTING ORGASM!!! Shauna's cum flies all over the Living Room as Josh watches in astonishment!! With the entire floor still soaked with Shauna's cum….She grabs hold of Josh's cock, and vows to uphold Her end of the bargain….and She Jerks Her Baby Brother to a MASSIVE MASSIVE ejaculation. The two Siblings bicker back and forth about who made the bigger mess. If their Parents only knew what went on…….
Shauna's 8 Cumblasts 01/31/2014
Sometimes if a Girl is Hot enough……..boys just can't help but cum all over the place!!! That's essentially what happens here….Shauna is so Fucking Sexy….and She "primes" this cock with such skill….that when She pulls the trigger…..Cum Sprays Everywhere!!! We have included a slow motion replay at the end so you can see in graphic detail all the Separate Cumblasts that Shauna Yanks out of this cock. There are 8 in total!!!!! TOTAL GIRL POWER!!!
Jerk Challenge 03/28/2014
Jerky Girl Goddess, Shauna issues a Jerk Challenge for the ages!!! Shauna promises this boy that if he can withstand a mere 5 minutes of Her Hand Stroking his cock without cumming…..She'll let him Fuck Her brains out!!!! That's right…..if he can control himself for 300 seconds…..he will have the opportunity to Fuck the sweetest young Pussy he has ever seen!!! Can he do it???? Shauna sets the timer, and touches him…..I mean "barely" touches him……and 31 seconds into the Challenge….he cums all over the place!!! 31 SECONDS!!!! Shauna laughs and laughs at the boy for failing the Challenge miserably…..but then Goddess Shauna has an inspiration……She gives him a second chance!!! With the timer still running…..Shauna begins to Jerk again…..using the cum from the first ejaculation as lube. Can he do it???? NO!!!! 75 Seconds later, he cums again!!!! 2 Milkings in 106 SECONDS!!! This boy fails big time!!! Mean Girl Shauna taunts the loser by spreading her legs wide open and showing him the juicy, sweet, young Cunt that he could have had if he was able to control himself!!!
DNA Explosion 04/25/2014
Shauna is at the end of a Date with a boy She has been seeing….and, like boys ALWAYS do…..he is pressuring Her to let him Fuck Her!! Shauna is not that kind of Girl….but since She feels sorry for him…..She agrees to give him relief….with Her Hand. Shauna tells him that She did that to a boy one time before…..at Bible Camp. The boy, of course, is happy to receive anything from Shauna (boys are all the same)….so he immediately pulls down his pants and lets Shauna go to work on him. Shauna thinks it's funny…the way his cock grows in Her Hand as She Jerks it….and then Shauna can't believe what She Yanks out of him!!! The boy Shoots himself in the face!!! His face….his clothing….Shauna's Living Room….there is DNA EVERYWHERE!!!
Spit Bukkake 06/27/2014
Wanna see how mean two young Jerky Girls in Yoga pants can get??? WATCH THIS CLIP!!! Shauna & Jemma play Spit Bukkake with this Loser!! The Girls Spit in his face constantly…covering his face with their sexy Girl Saliva. Then…things get even more interesting!! Jemma peels off Her Yoga Pants…and fingers Herself…until She Squirts all over his face!!! The Girls laugh and laugh. Shauna decides She wants to do the same….so She Squirts all over his face too!!! You MUST see the combination of Spit….and Girl cum that soaks his face!! There are puddles of Girl cum on the floor…his head is in it!!! Next, the Girls decide to Jerk him Off onto their Princess mirror….and make him eat it!!! They Jerk his cock….while still Spitting in his face….until he cums for them. Shauna dumps the cum down his throat, while Jemma continues to Spit in his face. Shauna even makes him lick the mirror clean of all his filth….while Jemma STILL continues Spitting in his face!!! He is eating his own cum, while his face is being Spat on!!! WARNING : You won't see a HOTTER scene than this anywhere!!! This is the Meanest Girl vs. boy scene ever filmed!!!!
Shauna Naked & Jerky 07/18/2014
In an exciting twist on the 20 Questions Interview……Shauna agrees to remove her clothing slowly…..as the 20 Questions progresses. Shauna casually plays with a boy's cock, as She takes the 20 Questions Test….removing an article of clothing every few Questions. It's not clear whether the boy was overly excited by the mind blowing answers Shauna gives during the Interview….or whether the site of Her completely Naked Body was too much…..but, either way…..when Shauna Yanks his cock, while She is totally Naked…..he EXPLODES!!! Several Cumblasts soak the boy….and Shauna's leg!!! Behold….the Power of a Naked Girl!!!!
College Students 10/20/2014
It's a typical Friday night at a Student Housing apartment in a College Town. Four first year Students are hanging out….having a few beers….and swapping stories. The stories soon turn to tales of Handjobs from the past….and all the Students have a story about a previous Jerking experience. All but one!!! Young Gary is rough to admit to his peers that he has NEVER been Jerked-Off by a Girl!!! After several bouts of laughter….the friends all decide that Gary must get Jerked-Off…..and FAST!!! There is some talk about getting Jemma to pop his Jerk Cherry…..since She is already there….but Jemma thinks it would be too "weird" to Jack-Off a close friend….so they have an idea!!! They call 1 800 JERKY GIRLS and report the "emergency situation". Within seconds (literally)….a Jerky Girl arrives on scene. It is the lovely Shauna….armed with paper towels, and baby oil. Shauna goes right to work, and gets Gary's pants down and off….and She goes to work on the Virginal Jerk. Gary doesn't last very long in Shauna's Hand ( who would??)….and within a minute or so….he has lost his Jerk Cherry!!! The Jerky Girls cum to the Rescue again!!! If you have a friend who needs to be Beaten-Off…….make sure to call 1 800 JERKY GIRLS!!!
Dirty Yoga Pants 03/01/2015
Why do you boys always get so "stupid" when a pretty Girl wears tight Yoga Pants???!!! Who knows. Anyway…..we know that the only thing you boys like more than seeing a Pretty Girl wear Yoga Pants…..is see a pretty Girl Jerk-Off a boy all over Her Yoga Pants!!! That's exactly what Shauna does!! Wearing some skin tight blue Yoga Pants….Shauna gives you guys a good look at Her Ass…..a good look at Her sexy soles…….and then She does what She came to do…..She makes a boy cum all over Her Yoga Pants!!! The helpless boy just kept cumming all over Shauna's Yoga Pants as She pulled and pulled all the sperm out of his balls. If you would like to purchase a used pair of Shauna's Yoga Pants….or another Jerky Girl's used Yoga Pants…..send us an email and maybe we can make all your dreams cum true!!!!


Add to favorites