Hot Irish busty blonde with a sexy accent ;) I'm here to explore and fulfil all of your fantasies and I cover every fetish imaginable. Whether you love to watch me tease you and tempt you with my hot body or if you can get on your knees and beg to worship and serve your beautiful Irish goddess. One way or another, you will be hooked and find it impossible to resist your new addiction.
Roxy Cox is a Irish Bimbo with a dirty mouth. In these vids she does different roleplays – often schoolgirl, incest or impregnation themed.
7 of the vids feature additional camgirls, 3 of them only feature Roxy.
7 of the vids feature real dick action (POV with blowjob, handjob and doggy), 3 of them only feature dildos.
(Dildo only vids: Daddy Punishes Gamer Girls w Huge Facial; Pussy Stretch & Anal Gape for Serenity; Sisters Anal Gape Creampie From Brother)
There's lots of dirty talk, some teasing/flirting with the other models, and lots of POV-blowjob and handjob with a bit of female masturbation.
Scenes end with vaginal creampies or facials or cum on tits (with both fake and real cum).
3 of the vids (PAWG Babysitter Impregnated & Breeding; PAWG Secretary Impregnated & Breeding; Sisters Anal Gape Creampie From Brother) are 1080p. The rest are all 2160p!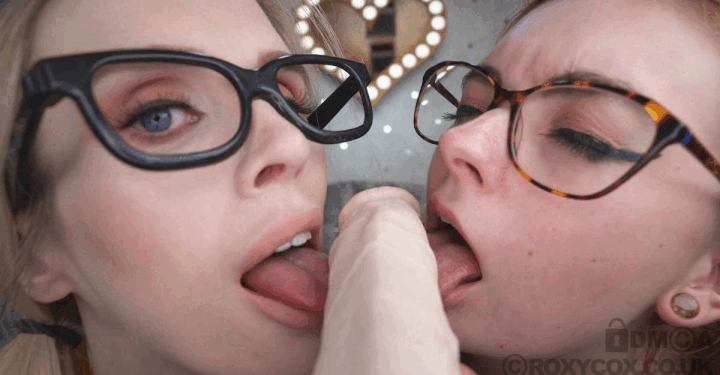 CONTAINS THE FOLLOWING:
dirty talk, roleplay, dildo sucking/fucking (including anal), female masturbation, blowjob, handjob, titjob, doggy, reverse cowgirl, cowgirl, facial, cum in mouth, creampie, anal creampie, fake cum
Date of Birth: October 24, 1994
Nationality: Irish
Hair Color: Blonde
Eye Color: Blue
Measurements: 30-24-34
Breast Size: 30G
Height: 5'6″
Weight: 115lb
Daddy Punishes Gamer Girls w Huge Facial
GG + dildo w/ LolaRoseXXX. Contains dildo BJ, female mast, fake cum on face/tits
Roxy and Lola are both being brats and fighting over a game. They try to snap the controllers off each other but Roxy tells her to be quiet as Lola protests it's her turn. Daddy isn't too impressed when he walks in and take sthe controller away so neither of them can play. He's going to teach them how to share starting with his cock. They lick both sides of Daddy's long shaft and takes turns sucking him off and gagging on his big dick. Daddy's gets both girls to lift up their tops and show off their tits and spread their legs wide so he can look uptheir skirts and watch them play with those juicy pussies. Daddy has got some toys for them to use and they both fuck themselves and put those toys to good use. Daddy's got one more thing for them to share and that's his big load. Roxy's tells him to cum for her first and he shoots a load all over her face, in her mouth and drips onto her tits. Now Lola wants some too & Daddy's blasts another load of his creamy spunk all over her, it's dripping down her glasses and such a mess. They both will share from now on!
Deepthroat Daddy – DDLG FaceFuck & CIM
B/G. Contains BJ, deepthroat, female completion, cum in mouth
Roxy needs to ask Daddy a favour. She's spent all her allowance money and needs more to buy new skimpy clothes. Daddy likes the outfit she has on now but Roxy insists she needs to get more stuff to show off. Daddy tells her to show off in front of him right now and she gives him a cheeky flash. Daddy's always looks after her, but if she wants more he tells her she's going to have to really earn it. He offers her a challenge, the deeper she can take Daddy's big dick the more money she'll get. She is shocked by the size of Daddy's huge cock when he pulls it out but she says she will try and try to please Daddy. Daddy tells her if she wants to be the best at sucking she needs to suck for as long as she can until she desperate to come up for air. Daddy's pulls her hair and tells her to suck his dick for as long as she can take it. Daddy really puts Roxy's mouth to the test, making her gag, fucking her pretty face & making her drool and get all sloppy all over Daddy's cock. She has to be a good girl now and finish Daddy off and swallow all of his tasty cum. Sticking out her tongue and rolling her eyes, making ahegao face as Daddy shoots his load into her lil mouth
GF & Sister Mind Fucked into Blowjob
BGG w/ Lenina Crowne. Contains mind control, blowjob, handjob, fake cum in mouth, fake cum play
Roxy your girlfriend isn't too happy when you decide to whip your cock out in front of her and ask her to give you a blowjob. She does not want to yet as you have only been going out a while and thinks it's better to wait till she's ready for more. She hesistantly gives you a quick handjob but that will have to do and she insists it's too soon for anymore. Then Lenina Crowne your sister comes in unexpectedly and asks what you guys are doing and why is her brother's cock out in front of her. Lenina tries to cover her face and not look at it as they both tell you to put it away, instead of doing that you shockingly ask your own sister to join in. They are both gobsmacked that you would even suggest such a sick idea and there's no way that either of them would go along with the idea of some sort of threesome. You decide to get your own way with them and fuck with their minds. You take control and they become entranced as they respond with "yes master" and now will obey your every word. Now both of them are the complete opposite and begin licking and sucking your cock, talking dirty as they share it and describe how big it is and good it tastes! They absolutely adore you now and can't keep their mouths and hands off your big dick. Getting sloppy, spitting and drooling all over it, even letting you push their head down and have them hold it deep making the gag. They are so greedy for it and want your cum, they both keep sucking you off till you cum in their mouths and start playing with your cum letting it drip out onto their fingers.
Harley Made to Squirt with BJ & Facial
B/G. Contains pussy slapping/fingering, squirting, BJ, handjob, facial
Harley is tied up with her trousers missing and she is sitting with her tits out, legs spread wide open unable to move. She struggles & squirms attempting to loosen the ropes as she demands to know what the hell is going on and wants to be let go right now. She isn't happy at all and asks if this is some sort of sick joke. But you've got other plans for helpless Harley, he has her sitting like that for a reason and reaches his hand over and slides his fingers inside her tight pussy with Harley moaning loudly as he continue to finger fuck her cunt until she squirts everywhere. So much juice is dripping out of her wet fuckholoe, but he keeps going he wants all of her juices and fingers her hard again to make her squirt again and shoves his fingers in her mouth to make her suck and taste her own pussy juices. Now Harley is on her knees hands behind her back and he pulls out his big cock for her to suck on. She is shocked by the size of that huge cock and claims it will never fit in her mouth but realises she has no choice but to get to grips with it and begins sucking. She spits on that dick getting it all sloppy and sucks it more, getting her hands free to jerk you off and the sooner she makes you cum the sooner she can leave. She knows you would love to cum all over her face and tells you to wank it all over her and you blow that load all over her face dripping into her mouth as she licks you clean.
PAWG Babysitter Impregnated & Breeding
BGG w/ LolaRoseXXX. Contains BJ, doggy, fake creampie
Lola the babysitter has found your wife's lipstick and decides it would look hotter on her. You spot her applying it in the bathroom mirror, waiting for you to walk by. She teases you, telling you she knows about your huge dick and can take care of it better than your wife. Everyone is in bed so no-one needs to find out. She grabs your crotch and grinds her perfect round ass against you, convincing you to cheat on your wife – wouldn't you rather have a perfect young slut like her? Your wife Roxy walks in and sees this little homewrecker's attempt to break up your marriage, but instead of being angry, she just laughs. Lola thinks she can make her hubby cheat but she has not Idea what she's dealing with, the two of you breed little whores like her just for fun. Roxy challenges Lola to go ahead and suck your dick like she said she would, but when she sees the size of it her jaw drops. There's no way that will fit her tiny mouth… but it's too late. She gags and splutters on the dick while being pushed down, struggling to breathe. One her face fucking humiliation is complete, Roxy tells her it's not over yet. She bends the cocky little brat over, spreading her huge ass and exposing her tight little cunt. Roxy fingers her for a bit telling her she's going to need to be wet as she's going to get the big dick she was begging for earlier… but instead of secretly fucking her husband, she's going to get impregnated by his big bull dick while she watches on. Roxy tells her to beg for his load, such a big creampie that after he pulls out the cum is just dripping out of Lola's stretched out cunt.
PAWG Secretary Impregnated & Breeding
BGG w/ itsyourqueengee. Contains titjob, handjob, BJ, doggy, creampie
Roxy is the head secretary and briefing Gee the new shy intern for her first day telling her she needs to make a good impression on her new boss. Once the boss walks in to see her, Roxy tells her to get down on her knees he wants to see what he's working with. If Gee wants to keep her new high paid job then she needs to please her boss. Roxy tells her to listen & obey and shows her what to do which leads to a titfuck & blowjob with Gee wrapping her big naturals around his shaft & sucking up to her boss. Finally being bent over with Gee getting fucked hard in doggy, begging to be bred and to be impregnated by her boss with a creampie and he spreads her ass to see that excess cum dripping out. Looks like we'll be keeping her after being such a good obedient submissive slut.
Pussy Stretch & Anal Gape for Serenity
G/G + dildo w/ Serenity. Contains female masturbation, vaginal & anal dildo play
Roxy is masturbating in her room and play with herself, getting herself nice and wet. Spreading and gaping her pussy wide open and stretching it with a big thick toy. Then she starts stretching her tight asshole and uses a toy to push back against and fuck her ass and gaping it wide open. While she enjoying gaping her ass open, her younger sister Serenity walks in and she is surprised to find Roxy playing with toys as she's never used them before. But she's very eager to try and Roxy suggests that she uses her big toy on her pussy first and Serenity slides that toy inside Roxy's pussy to stretch her. Now Roxy bends over and wants Serenity to use a toy on her ass to stretch it more and gaping it open. Now it's Serenity turn to take those toys and Roxy gets her to strip off and slides a toy in side her tight pussy, she got so turned on by fucking Roxy that she wet already. Roxy slides that toy inside Serenity's tight pussy and she loves every second, rubbing her clit while Roxy fucks her. Serenity's never did anal before but she wants to try and Roxy slides a butt plug in her tight little ass and stretches her out, sliding that plug all the way in and pulling it back out to gape it open. Serenity does her first anal gape and her big sister Roxy is proud of her.
Schoolgirl Slut Creampied By Big Dick
B/G. Contains blowjob, doggy, reverse cowgirl, creampie
Male classmate who's top of the class comes over to Roxy's house to help her out as she will fail if she does not finish the big project that is due tomorrow. She thanks him for coming over on such short notice to help her out as he is so smart & can guide her through everything. Roxy tells him she's easily distracted in class & just needs to try and focus more, she forgets things so easily (even her panties) as she lifts up her skirt to flash her classmate. As she does this, she asks him does he ever get have trouble with that losing concentration as she begins rubbing herself. But she has an even better idea what if he could finish off the project for her, it wouldn't take him long as he has already handed his own in & he's such a smarty pants! Then she can do something else for him as she plays with her hair and herself soem more. She may suck at school, but she's so good at other things as she starts to squeeze her tits and pull them out. She'll be happy to demonstrate if he pulls his cock out and she smiles admiring his huge cock. Big dick & brains how can a girl resist! Getting on her knees to worship that big dick and give a nice blowjob. But she can't stop now they are having way too much fun, she bends over and lets you take her from behind fucking her doggy, then gets into reverse cowgirl to bounce on grind on that cock. Finally turning around to face you in cowgirl so you can see those tits and continues riding your cock begging you to cum inside her tight pussy. You blow your load and fill her up with a big creampie, so much cum it's dripping out of her stretched cunt!
Sisters Anal Gape Creampie From Brother
GG + dildo w/ Brea Rose. Contains anal fingering, anal dildo, anal creampie (fake)
Brea Rose is approaching her older experienced sister Roxy to ask her for some advice about sex. Brea asks her about some of the stuff she has done with guys, Roxy avoids giving too many specifics to protect what she thinks is her innocent sister. Brea tells Roxy that her boyfriend and her have been going out a while and wants to start being sexual with him. The problem is that her boyfriend is really religious and thinks its wrong to have sex before marriage, she hasn't even seen his penis or any penis before. However, Brea says her boyfriend has a loophole, anal doesn't count so they could do that instead and it wouldn't go against his religion. Roxy is very sceptical and tells Brea that her boyfriend is being dishonest & just trying to take advantage of her, but Brea won't hear any of it, she says that he loves her and would never do anything like that. Roxy tries to talk some sense into her, but Brea won't be swayed. Brea asks Roxy if she has ever done anal as she is nervous about it because she heard that it can be kind of rough first time round. She asks Roxy for some tips, she is hesitant but figures that it is best to help Brea instead of letting her go in blind. She has Brea take off her clothes and panties, telling her to turn around. Roxy fingers her asshole so she will have an idea of how it will feel with a penis as Brea moans. Roxy is trying to be gentle and asking if Brea has had enough. Brea says that she thinks she needs to try something more, her boyfriend is always talking about how big his dick is. Roxy says that he is probably exaggerating about his size like most guys do, Brea insists that he would never lie to her. Roxy says that they have nothing bigger to practice with, Brea rather timidly suggests that they do their brother. Roxy says that is inappropriate and they can't do that. Brea acts upset and Roxy relents and agrees. Calling their brother into the room to explain the situation to him. He takes little convincing before he takes his dick out. Roxy is shocked by the size, but hides her reaction from Brea. Brea is looking at the dick with great interest, asking if it's big or not. Roxy secretly signals to her brother to play along and says that actually it's just a little below average. Brea says it looks pretty big to her but Roxy would know better and she wonders how big her boyfriends must be if his is so big. Roxy tells Brea to go her bedroom & get the lube. When she leaves, Roxy looks at her brother and tells him that that's the biggest cock she has ever seen. She explains how she lied to Brea was so that she would try anal with their brother's cock & it would be way too big putting her off the idea of trying with her boyfriend. The brother is not terribly concerned about the details, he is in. Brea returns very giddy & Roxy is lubing up their brother's cock. Brea gets into position to take his cock, he starts to push into her asshole. Brea struggles alot but eventually gets the cock part of the way in. Tells her brother to go slowly in and out. But she says that she can't handle anymore & tells her brother to pull out. Brea says she's not sure if she will be able to go through with it with her boyfriend as he's supposed to be way bigger. Roxy is happy to hear this. She looks sheepishly at Roxy as she says maybe you could show me how to do better, after all she has probably already had way bigger. Roxy is lost for words, she doesn't want Brea to know about her plan to trick her. She tries making excuses, but their brother says it's a good idea. Roxy glares at him, she is nervous because it's the biggest cock she has ever taken. Brea asks why she is hesitant, Roxy makes an excuse and tries again to get out of it but it's no use. Her brother starts to push his cock into her asshole, she is struggling even more than Brea was. Brea tries to encourage her and is a bit confused as to why she is having so much trouble given that Roxy is supposed to have plenty of experience at this. Roxy gets the cock as far in as Brea had and she yells as she tries to get off, saying that the cock is too big. Brea is shocked and angry, she yells at Roxy saying how could she lie to her, she was trying to get her help and she tried to trick her. Roxy is trying to tell her it was for her own good, that she was trying to protect her. Brea tells her to fuck their brother's cock until he cums in her ass balls deep, taunting her all the way, until Roxy has a moaning painful anal orgasm, filling her ass with cum then pulling out to gape it open with cum dripping out.
Succubus Sisters Suck to Steal Your Soul
BGG w/ LolaRoseXXX. Contains blowjob, handjob, fake cum facial
Roxy & her sister Lola have got a handyman fixing a light at their place. They ask him how he's getting on & if he will be finished soon. They ask if he enjoyed the tea they made him and comment how it was a special blend that their family uses it is very tasty and you drank every single drop. All of sudden, he starts to feel a bit dizzy and they ask him what the matter is? What a pity as your stuck up there all helpless and they suggest calling his wife to come pick him up but then again they reach for his trousers and notice that his cock seems to be working ok. They think he should just stay here and they will both look after him and he will be in good hands. The light flickers and the girls are bathed in a purple light and reveal their true form as succubus sisters, with horns on their heads. They continue rubbing his dick through his pants and keep telling him that all they want is is his seed and to take his soul. They chose him because they knew he had a huge cock and the more cum the better. They plan to extract it be seducing him first, pulling their tits out and he can't fight it. You are growing and that cock is rock hard as they both share it and suck on your dick. We will suck you dry until you give us that big load and all of that seed. You can't resist us and your on the edge, you need to cum and let us taste it. We tell you to cum for us, to give it up and you can't help but blast all over our faces and all that cum is dripping into our mouths. A messy facial and us covered in that cum exactly what we needed to become more powerful and now your soul is ours.


Add to favorites