DANTE…HIS LITTLE SISTER MALLORY…AND MOM ALL GET RELAXED!!!
MOM SUPERVISES AS BROTHER AND SISTER SUCK AND FUCK EACH OTHER'S BRAINS OUT!!
This is why Brothers and Sisters should NEVER get Relaxed together!!! Dante and his little Sister Mallory spend the day having a few drinks together. Dante is drinking beer….and Mallory is drinking . As the day goes on and on….one thing leads to another….and pretty soon, both Siblings are completely Relaxed and starting to notice how "cute" each other is…..Uh-Oh!!! Before you know it, they begin to rip off their clothes and attack each other. Both are WAY too horny and Relaxed to realize how wrong what they are doing is. They engage in oral sex….and are just about to "fornicate"…Dante has his little Sister bent over…and is just about to Shove his cock inside her…..when Mom walks in!! Both Siblings are shocked at the sobering image of their Mom walking in on their inappropriate behaviour. What follows, however…is even more Shocking!!! Mom, as it turns out, is not even mad at them for Fucking each other…….in fact, Mom says that Fucking at home….with each other….especially when they've been Relaxing….is better than going out….driving….or Fucking strangers off the street! What Mom is most upset about…..is the lack of "safe sex" being practised by her two offspring….so Mom Forces Dante to put on a condom…and then Mom grabs a glass of herself….and teaches the two how to Suck and Fuck properly!!! Mom makes Dante lick his little Sister's Pussy before inserting his penis inside her….and tells Dante that he must make his little Sister cum before he does….girls first!!! Mom watches….drinks….and supervises the entire episode…until she instructs Dante to pull out and ejaculate on his Sister's Boobs, so Mom can see. This is a wonderful Relaxed Family Fuckfest!!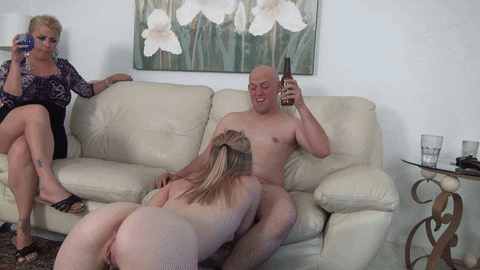 Category: TABOO
Related Categories: TABOO FUCKING


Add to favorites