Includes: A Must have for Mommy Missa fans! Sleep walking son, concerned mommy, finger fucking, sex, big cum shot
My son is home from his week's stay at The Sleep Institute of Pleasantville. I wish his father could be here to enjoy his first stay home, but he had to go out of town to work. I put my son to bed, and forgot to give him his new medication. I relax in my bedroom and talk with my best girlfriend. While we are exchanging pleasantries my son walks in and he's asleep.
I relay the information to my girlfriend. I giggle at how funny he looks stumbling around, and he takes off his under-roo's! She advises me "Wake him up!" I tell her that the doctor told me how I could damage his heart, possibly even start a heart attack if I wake him while he is sleeping. The doctor just advised me to monitor him and make sure he is safe. While I am discussing this information my clumsy son paws at me.
I shoo away his hands gently, then he grabs my thigh and lifts me up, taking off my panties. I tell my girlfriend what he is doing play-by-play, and assure her that he will never remember it in the morning. The most important thing to me is keeping him safe and occupied until he inevitable collapses and sleeps. He begins to touch my pussy. "Gosh.. I guess he is at that age." I let him do with me what he wants, I am afraid of disrupting him, then he begins to finger me. I moan, and then try to muffle the sound of pleasure so my girlfriend doesn't hear. "Omgosh, so embarrassing, I can't believe my son is fingering my pussy." He then takes his cock and guides it inside me.
At first, I try to hide the fact that I am actually fucking my son, but it's pretty obvious. I don't mind that he is fucking me, it's not like I am going to get pregnant, I am past the change of menopause. I am just thankful that he will not remember fucking his sweet mother. When it gets to hard to muffle my gasps, moans, and breathing, I get off the phone with my friend. I tell her I will call her tomorrow morning and tell her how it all pans out.
My son takes his cock and clumsily pushes it in my hot mouth. I suck on it, trying to get him to cum for me. He fucks me from behind and cums huge. He looks even more drowsy than he did when he stumbled in. I lay him down on my bed, and tell him some very scandalous things. Watch the story unfold!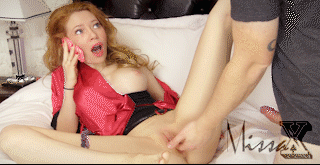 Category: TABOO
Related Categories: MOMMAS BOY, REDHEADS, MILF


Add to favorites