Krystal Orchid's a somewhat nerdy blonde semi-amateur, who's done lots of handjob videos. These two clips, however, are hardcore clips. Pretty standard fare, action-wise: brief setup, oral, pussy fucking in various positions and cumshots in her mouth and pussy. The gimmick lies in her clothing, dirty talking and the whole incest theme. More detailed description of each clip follows in the plot section below.
The Pendant


Krystal finds a strange necklace lodged in a wall. She can't resist putting it on, later on in her room, where she's killing time in her school uniform. She starts to get wet and touching herself, while reading a non-porn magazine. She even tastes her juices while she's at it.
Her dad enters the room and asks how her schoolday went. There's some dialogue but she quickly becomes transfixed to another plane of reality. When she zones back in, she's horny again. She tells him that's she's had some impure thoughts and whatnot. One thing leads to another and soon she's dug his cock out and starts to suck it. By this time her panties have come off, so we see her shaved schoolgirl snatch while she blows him. (The upper half of her uniform remains on for the whole scene, though.)
As the tension develops, she spreads her legs for daddy, who then starts fucking her in a semi-missionary position, with her on the bed, while she jills off. They switch to doggy, with a great view of her pale moon.
Finally, she gets on her knees and sucks and jerks his cock some more. He shoots all of the cum inside her mouth, which she displays therein, before swallowing the whole load.

School Uniform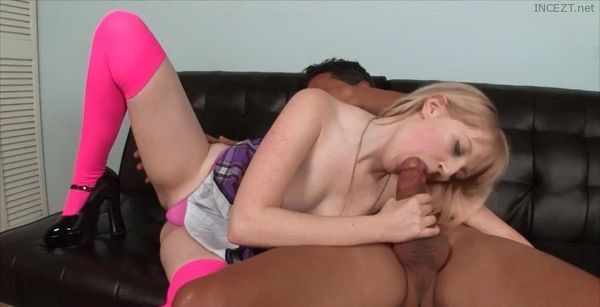 Krystal enters the room. Her school was being a total drag about her rad dress, which she complains to her dad about. Said dress consists of a neon pink top, a purple plaid skirt, neon pink stocking and high heels.
Anyway, dad doesn't side with her, so she decides to punish him. The punishment begins with her removing dad's pants. After his cock's out, she takes of her dress to reveal her nice, pale boobs. She sucks his cock on the couch, sideways, for a good while.
After the amount of sucking has been deemed sufficient, she removed her clothes (minus the stocking) and climbs on top, in order to ride daddy in the reverse cowgirl position. We get an excellent view of the pale body and shaved pussy. After a good while of that they switch to half-missionary, still on the couch, which allows daddy to drill her deep. The ludicrously deep thrusting reaches a satisfactory end with him cumming in his daughter and making her pregnant.



Add to favorites