He feels foolish dressed like a pirate, but he was asked to chaperon his 18 year old daughter's halloween party. He didn't understand WHY a bunch of college girls would need a chaperon, but he didn't like the idea of his daughter, Harmony, being at some frat house. Dani Jensen seems VERY grateful that he's there. "So are you in the sorority?" "No" she laughs, "I'm the leader of our…book club"
Dani and her coven of witches make their pledges to each other as they begin the spell. A spell that will make them young and beautiful forever. A spell that will give them power over men. A spell to bend them to their will.
"So where are the other guests" Harmony's dad asks trying to change the subject. "Oh don't worry about them, you're our guest of honor tonight" Dani says as moves in closer, touching his leg and leaning in to kiss him. He feebly holds up his ring finger, but Dani just kisses it. "I bet she doesn't dress like this, does she?" Even if she did, his wife looks nothing like Dani, she's something he's only ever fantasized about.
The coven continues the spell "Make our eyes […] so he can't look away" "Make our voices sweet and comforting" "Make our kisses irresistible" "Make the taste of our tongues addictive" "Make every inch of our bodies desirable"
Dani mounts him, her hands on his face so his eyes stare deep into hers as the empty cup falls from his hands. He can't help himself, he may never get a chance to touch a body like hers again. Just for a few moments, just to know what it's like, he tells himself. "Don't you've the way my body feels?" she asks as she grinds and places his hands on her big tits, "Isn't it SO much better than your wife's'?" He moans out at her words. It's so wrong but its turns him on because its so true. "Don't you want MORE?"
"More?" he fumbles out. "Don't tell me you've never thought about your daughter?" Images of Harmony flash into his mind. Her sexy little body, her innocent little face. "Haven't you ever fantasized about sneaking into her room at night?" He tries to shake his head but Dani knows the truth as she feels his cock move "That gets you SO hard doesn't it? It's ok, we can keep a secret"
"We?" he asks, both excited and concerned about her answer. "Me and your daughter" He feels delicate hands run down his chest from behind as Dani kisses him passionately. When she pulls back Harmony's face is next to his. "It's ok daddy, mommy will never find out" she says as his heart races "I promise I won't tell anyone daddy." He does nothing to stop his own daughter from bringing her lips to his "Especially not mommy."
Dani makes room on the sofa so Harmony can spoon up next to her father. "We just want to make you feel good" she tells him as Harmony swings her leg over his and they both run their little hands over the bulge in his pants. "What about the other girls?" he stammers, both looking for a way out and hoping they never stop. "Its ok, they're getting dressed" Dani tells him. "Putting on their own cute little outfits" Harmony says, teasing his imagination as she rubs harder against his cock.
"Don't do that" he pleads turning towards his daughter, but is met with another kiss. "Shh daddy, its gonna be ok." She whispers in his ear. "I can feel how hard you are" Dani whispers in his other ear. Their hot breath on his neck, their wet lips kissing his ear. His hand moves to his daughter's ass as she presses more of her body against him "Don't you want to give us your cock?" Dani asks. "Can I please put your cock in my mouth daddy?" Harmony begs as she falls to her knees and begins to undue his belt.
"We just want you to use us to make you feel good" Dani tells him, her eyes putting him in a trance as his daughter pulls his pants to his ankles, "We're here for YOU and ONLY you." Harmony's wet little tongue licks her dad's shaft "Thank you daddy" she says before taking it into her mouth.
Its too late now, he can't stop them, he doesn't want to stop them. Dani kisses him, telling him how grateful they are, how honored they are that he would give them his cock. "Can I taste it too?" Dani asks before he permits her to suck his cock as well. "Thank you daddy" Harmony says as she comes up to kiss her dad. "We just want to pleasure you daddy, we want to give you the best halloween ever." Harmony contuse to tease him about how good Dani's mouth must feel, how its better than mommy's before she drops back to her knees and joins Dani. They take turns sucking and licking his balls, sharing the shaft as she run their mouths up and down it, getting it nice and wet with spit. Soon his hand is behind his daughter's head pushing her up and down on his cock as she willingly takes it down her throat for his pleasure.
But soon Harmony wants more. He tries to say no, that sex is TOO far, but once Dani pulls down her panties from under her little cheer uniform, he knows he can't resist the temptation. Harmony climbs on top of him and grinds on her father's cock [simulated sex]. She thanks him as she moans with pleasure. Dani whispers in his ear how he owns her pussy now. They share kisses as Harmony continues to ride him, telling him he can fuck all her holes and use her whenever he wants. He flips her to doggy style, his hand up under her little cheer skit as Dani kisses him and whispers her devotion to him. Harmony begs her dad to sneak in her room every night after mommy goes to bed. Dani begs to help service him whenever he wants. They treat him like a god as he continues to pound his little daughter, putting his hand around her neck as she moans and begs for more.
But he owns BOTH of them, so he tells Dani to climb on his cock while his daughter kisses him and whispers in his ear. Harmony thanks him for using them. She tells him how much sexier Dani is than mommy, those big perky tits are SO much better. A pair of perfect fakes tits for him to squeeze and suck on as they both thank him for the honor of pleasuring his cock. They want to drain his cock tonight, they want to take ALL his cum.
They both get on their knees again and beg for his cum, Dani licking his balls as his daughter strokes him until he cums. After the bliss unclouded his mind, her tried to grab his pants and leave, but before he knows it, the other girls around surrounding him. Liv Wild, Jewelz Blu and Paris White join them as Harmony and Dani start sucking his cock again. They meant it when they said they wanted ALL of his cum tonight.
To Be Continued….
TAGS: Dani Jensen, Harmony Wonder, threesome, double blowjob, submissive, taboo, fake tits, seduction, home wrecker, halloween, costume, cheerleader, witch, witches, coven, magic control, binaural, ASMR, whispering, kissing, dream-like, pigtails, redhead, MFF, BGG, simulated sex, blowjob, BJ,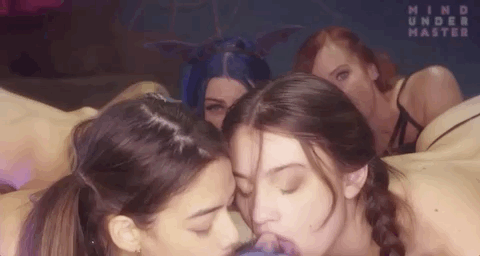 Part 1 description:
Harmony Wonder's dad is surrounded by her sexy friends, Dani Jensen, Jewelz Blu, Liv Wild, and Paris White. They all call him daddy as they beg him to stay, beg for the chance to please him, beg for the chance to serve and worship his cock. He knows this is crazy. There's no reason that five young girls should want a man twice their age this badly…are they going to blackmail him? He doesn't know but he also can't help himself, the pleasure is too much to resist.
Dani explains to the coven that magic is the transfer of energy. If they want to power to control men, to make men their slaves, then THEY must become slaves first. They must offer themselves to a man completely as a sacrifice. They must only care about HIS pleasure, they must only serve HIS desires, but if they choose the right man he might not realize the control he has over them. If they chose a man who is desperate for affection they can overload his senses with their whispers, their touch, their kisses, their submissiveness. Harmony knows JUST the man, her father.
The girls all take turns sucking his cock as the rotate around him. Two girls whispering in his ear and tree off kisses while three others kneel before him, sharing his cock and balls until he cums in Jewelz's mouth. But they're not done as they take him over to the bed, strip him and surround him once more. They beg to service him, the plead to use them however he likes, they declare their complete and total devotion to his pleasure. They suck him and kiss all over his body as they lose more and more of their costumes. They wrap themselves around him, coating every inch of his body in pleasure but also preventing him from moving, until he cums again, this time in his daughter's mouth.
But that's just the beginning. They each take turns riding [simulated sex] him while the other four girls each hold down a limb as they kiss and rub his body, making him cum for each of them. Time blends together and he doesn't know how much he's cum or how long they've been fucking. He pleads for a break but the girls beg for just ONE more load. They continue to rotate around him, telling him how perfect he how this is ALL for him. How they want to drain him completely. They want to take every last drop of his cum until there is nothing left. The tell him this is what he deserves, a harem of little girls pleasuring him over and over again. He deserves all this attention and pleasure. He deserves to cum until he can't cum anymore. And THEY deserve all of his cum, all of his energy, they've given themselves to him completely and now its time for him to give them one more load to complete the spell.
TAGS: Dani Jensen, Harmony Wonder, Jewelz Blu, Liv Wild, Paris White, reverse gangbang, harem, BGGGGG. MFFFFF, orgy, group, one man, many women, daddy, taboo, cheating husband, coven, magic control, halloween, costume, schoolgirl, cheerleader, succubus, witch, kissing, blowjob, simulated sex, worship, seduction, submissive, home wrecker, Wednesday Addams, dream-like, dirty talk, begging, ASMR, whispering, binaural, sharing,


Add to favorites