YOUNG LUST GONE WILD!!!
WHEN YOUNG LEXY DISCOVERS THE JOY OF SEX….
SHE KEEPS FUCKING HER OWN BROTHER!!!
This young girl has discovered the joy of sex!!! And she is so joyful….she will have sex with anybody….including her very own Brother!!!! Lexy takes it in her tight cunt over and over again from her Brother Josh!
Included in her Family Album are full versions of : "Return Of The Fertility Idol" "Baby Fever" "Pavlov's Bell" & "Two Peas In A Pod".
Category: 18 & 19 YRS OLD
Related Categories: TABOO FUCKING SISTERS HANDJOBS 18 & 19 YRS OLD
Keywords: sisters siblings family sex brother sister sex taboo blowjobs fucking impregnation fantasy big tits baby sisters short shorts big tits socks handjobs brunettes
RETURN OF THE FERTILITY IDOL!! HD
THIS POWERFUL FERTILITY IDOL WREAKS HAVOC FOR POOR LEXY!!!
IT FORCES HER TO MASTURBATE REPEATEDLY….
IT MAGICALLY RETURNS AFTER SHE THROWS IT OUT HER WINDOW….
AND IT FORCES HER TO HAVE VIOLENT UNCONTROLLABLE SEXUAL INTERCOURSE WITH HER BROTHER JOSH!!!
Lexy orders a "unique" item off the Internet. It is a Powerful Fertility Idol. It is said to cause unbelievable Lust & Horniness to those who come in contact with it. Lexy knows (or thinks she knows….lol) that the statue is a harmless decoration…..and she simply ordered it because she thinks it will look pretty in her bedroom. Within moments after the arrival of the Fertility Idol, however…Lexy begins to feel "funny"….and she strips off her shorts and begins to furiously masturbate. After bringing herself to an explosive orgasm…Lexy becomes frightened…and determines that the Idol IS in fact Powerful….so she throws it out her window, calling it "pure evil". To her horror, however….when she goes to bed that night…there it is again!!! Sitting on her bed!!! "Why are you here???!!! I threw you away!!!" Lexy screams….but it is no use….she is again taken under it's evil spell…and she starts masturbating again!! Her cries of lust are so loud that her Brother Josh comes in her room to see if she is OK. Lexy screams at Josh to get out…."Run Josh….RUN!!!…..save yourself…..". Josh is totally confused….and in an attempt to rid herself of the Power of the Idol….she throws it in his direction!! Josh catches the Powerful Fertility Idol…and, next thing you know….he is under the spell too!! Josh rips off his clothes and attacks his baby Sister!!! The two poisoned Siblings hump each other silly until Josh unloads all over his sister with a violent cum explosion!! This is one Mega Powerful Fertility Idol!!!!!
Category: TABOO
Related Categories: TABOO FUCKING SISTERS BIG TITS 18 & 19 YRS OLD
Keywords: sisters siblings baby sisters family sex brother sister sex taboo blowjobs fucking magic spells 18 years old spells brunettes
BABY FEVER HD
WHEN LEXY GETS BABY FEVER…SHE IS DETERMINED TO GET PREGNANT…AT ANY COST!!!
WHEN HER BOYFRIEND FAILS….TIME AFTER TIME….
SHE COERCES HER BROTHER JOSH INTO IMPREGNATING HER!!!!
Lexy has caught a Fever….Baby Fever!!! She desperately wants to have a Baby, and she and her boyfriend have been humping each other like rabbits….trying to get her pregnant. Unfortunately…..Lexy has received nothing but bad news from the home pregnancy test. At her wit's end….Lexy is about to take drastic measures!! Lexy asks her Brother Josh to "help" her get pregnant…by being her "sperm donor". Josh points out that no clinic would impregnate her with his sperm….since they are Brother and Sister. Lexy has an answer all ready for him…."Of course a clinic won't do it silly…..we would have to do it the "old fashioned way"". Before Josh can even mount a protest…Lexy yanks down his pants and takes his cock into her mouth. With Lexy's hot lips and tongue pleasuring his cock….Josh's sense of right and wrong vanishes pretty quickly!! Lexy sucks his cock to full attention, and then asks him if he would like to lick her cunt. Josh answers affirmatively…..and starts to lick his Sister's pussy. After a few moments…Lexy gets over anxious and demands him to "Stick your Baby maker in me!!!". Josh climbs on top of his Sister and starts to hump her. Lexy asks him as he pumps away…."did you Jerk-Off today?….I hope not……I hope you are FULL of Baby Batter!!!". Josh pounds his Baby crazy Sister until he delivers the goods…..a cunt full of active swimmers!!!! Lexy makes sure that all the Baby Batter goes inside her wet pussy…..and turns to her home pregnancy test…."I hope you have some good news for me this time…..".
Category: TABOO
Related Categories: TABOO FUCKING SISTERS IMPREGNATION FANTASY 18 & 19 YRS OLD
Keywords: sisters siblings little sisters family sex brother sister sex taboo fucking 18 years old brunettes pussy eating petite fantasies blowjobs creampie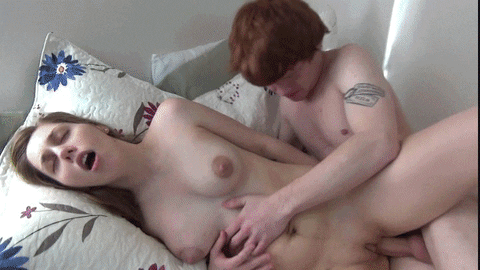 PAVLOV'S BELL HD
JOSH USES "HIPNOSIS" TO TURN HIS SLUTTY SISTER INTO A ROBOT!!
THEN HE ABUSES AND VIOLATES HER….
AND TURNS HER FACE INTO A CUM DUMPSTER!!!
Lexy is a little Brat….and a sneaky little cock teaser!!! She has developed a habit of annoying/teasing her Brother Josh. She even goes as far as flashing her bare boobs to him, in an effort to frustrate and excite him. Poor Josh has had about enough of his stupid, bratty Sister….so he plots a sinister revenge!! Josh has been attending school for "hypnotism" …..and he asks his bothersome Sister for help in preparing for his upcoming exam. Lexy, of course is derisive and insulting….but Josh convinces her to let him practice on her. Unfortunately (for Lexy)….Josh has become quite competent at ""….and he puts her under a trance. Once under….Lexy is trained with a special "Bell"….known as a "Pavlov's Bell". She is programmed to become obedient to her Brother upon hearing the sound of the Bell. Josh programs his annoying Sister…..and a few hours later, when she is waiting for her Date to pick her up…Josh decides to cash in by ringing Pavlov's Bell!!! After hearing the Bell….Lexy becomes completely limp, and mesmerized…..and unwittingly follows all the commands from her demented Brother!! Josh forces Lexy to suck his cock. he forces her to let him lick her cunt. He forces her to take a hard fucking….before using her face as a cum dumpster!!!! Once he is finished violating her…Josh snaps his fingers to break the spell….and Lexy is totally perplexed by the warm, sticky fluid all over her face!!!
Category: TABOO
Related Categories: TABOO BIG TITS SISTERS FUCKING 18 & 19 YRS OLD
Keywords: big tits cute girls hot girls brunettes sisters little girls brother sister sex fucking taboo female training eye glasses robots facials
TWO PEAS IN A POD HD
THEY HAVE SO MUCH IN COMMON……
THEY ARE BOTH RECENTLY SINGLE…..
WHY CAN'T A BROTHER AND SISTER BE BOYFRIEND/GIRLFRIEND???
THEY DECIDE……NO REASON!!!!!
Lexy and her Brother Josh have always been close….but they are about to get closer than ever!!! Josh has broken up with his girlfriend….Lexy has broken up with her boyfriend….and they are together watching the Patriots!!! They are both HUGE fans. On top of their exes being annoying…..turns out both their exes are Giants fans!!! YUKK!!!! After the game ends…the two like minded Siblings lament the fact that they both find themselves single. After some venting….and some reflection….they come to a startling revelation. They have SO MUCH in common…..that they are actually the "perfect" couple!!! They agree with everything the other says…unlike their failed exes….they are both attractive….so they come up with a "unique" concept!!! Could they possibly become….."Boyfriend/Girlfriend/Brother/Sister"????? Could They??? Why Not??? They both seem to think the idea is wonderful…and before you know it…the two siblings begin making out! Lexy sucks Josh's cock….Josh licks Lexy's pussy….and then they Fuck and Fuck and Fuck and Fuck!!! Lexy finally ends up with a massive creampie inside her, and they question why they never though of this great idea before……Boyfriend/Girlfriend/Brother/Sister!!!!!
Category: TABOO
Related Categories: TABOO FUCKING SISTERS CREAMPIE 18 & 19 YRS OLD
Keywords: sisters siblings family sex brother sister sex taboo blowjobs fucking tomboys baby sisters brunette pussy licking creampie


Add to favorites