It's my sad, occasional morning routine – sometimes I let my cuck hubby fuck me before he goes to work. He's not effective at all back there, so I'm able to get other things done while he pumps away at my pussy, trying to make me feel it – which he rarely does. He gets the time it takes me to smoke my morning cigarette to get his little nut, and not a minute more.
This morning, while he's working his little dick hard but uselessly from behind, I'm waiting – bored out of my mind – for my big-cocked bull to call and confirm our date tonight…right on time, there's my phone…
Lighting my cigarette and chatting with my sexy stud, it's almost possible to completely ignore my incompetent hubby…if he'd just stop trying to touch my tits and hair while he's fucking. So annoying!
The dirtier the talk with my bull gets, the harder little cuck hubby tries to fuck…but it's pitiful and only makes me laugh, describing his sad efforts to the Real Man on the phone. When I tell my hung stud that I can't wait for him to load my pussy with his cum tonight, my horny little bunny finally does his best to do the same; I can feel him spasming against me, grunting as he drops his tiny little nut in my pussy. As soon as he's done I tell him to get off me and get to work, so I can get ready for a real cock…tonight.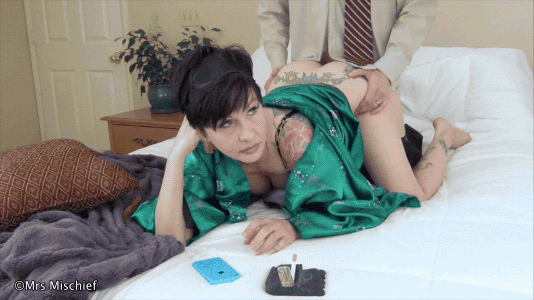 Includes : Cuck, Small Penis Humiliation, Dirty Talk
Category: CUCKOLDING
Related Categories: SMALL PENIS HUMILIATION HOT WIVES HUMILIATION SMOKING DIRTY TALK
Keywords: milf cuck female domination sph fucking mrs mischief


Add to favorites