"Do you really love my sister?"
Christ on a cracker. Here we go.
Kira is very protective of her younger sister.
So protective that she insists on knowing if her sister is going to be happy marrying this dude.
She calls it a "test". And her and her sister do it all the time.
The "test" in theory measures the amount of satisfaction her sister can expect from the groom to be.
This is not a Rorschach test…nor the Wonderlic test…it's not even twenty questions.
Nope. It's about his pocket rocket.
The shape, size, and presumably stamina.
Now it occurs to me that her sister should know this already. Unless she's Amish.
But in the name of love and familial devotion he must be tested.
She does so by giving him a long sloppy, and I mean sloppy, blowjob to completion.
Now most of us would be racked with guilt after nutting from this.
But Kira assured the dude that it was a thing her and her sister do and it's all good.
Until she tells him that he might not wanna mention it to her sister.
Oooops.
Just spit balling here dude…might wanna marry Kira instead.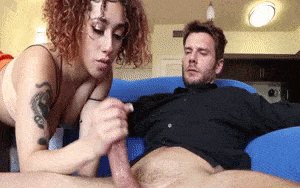 Add to favorites