Millionaire, Katrina Jade, owns Jade Imports with her husband they employ over 3000 people, one of whom, Zac Wild, has stolen from her company. Zac leaves a letter of his resignation and a check at Katrina's home when she surprises him and opens the door. She has a desire to take his seed, this would let him off the hook, and of course he can decline her, he should say no, but will he be able to deny a strong, cold, powerful woman with all of her persuasion?
Katrina stares at Zac, "My husband thinks we should call the police, but I think it's possible you can be rehabilitated."
"No, don't call the police," He laughs nervously, "Rehabilitation sounds okay.. but it makes me think you want to cut off my hand or take my life or something.." Katrina shrugs and stares into his eyes.
Zac musters every fiber of inner strength and confesses, "I swear to you I stole from you, in increments, just as I confess in my letter. I needed the money to pay for my wife's hospital bill or else they were going to foreclose on our house. Our daughter..
Katrina squints her eyes, "Little Anisse, the one that goes to private school?"
"It's a Catholic school, not really expensive, it is private but.."
Katrina interrupts, "but you intended to pay the money back, even if you weren't caught?"
"Absolutely. I am not a thief. I am a good man, and Mrs. Jade, I've been with Globex for eight years.. you know my character."
"Funny. I had the same thought when I saw the debits in payroll going into an offshore account under "Zachary Allan Wild."
Zac shakes his head, "I understand that I can't be forgiven, I wish I could still work for you, it's honestly been the best job of my life, but I wouldn't even think of asking for you and Mr. Jade's forgiveness.
Katrina crosses her arms and stares at him.
"I am at the mercy of your goodness, your kindness, and forgiving nature. Please accept my resignation, accept the repayment, and ma'am, I know what you're thinking..
Katrina raises an eyebrow.
"You think that I should pay interest, as if I loaned the money from the bank, and I think that's perfectly understandable."
Katrina explains in a cool and collected manner, "the difference is that when you take a loan from the bank, they know you're borrowing the money, they approve you, instead of hundreds of your thieving hands taking money away from all of your co-workers. The same co-workers that you buy donuts for, you small talk with at the water cooler, the same co-workers who think you're a stand up guy, Zachary."
Zac nods, "Please, ma'am [he gets down on his knees] it would kill me if they knew I've been borrowing.. Katrina interrupts him sharply. "stealing!"
Zac nods, she's right, he whispers as if the word, 'stealing' cuts into him, "stealing from my friends."
Katrina, "But you tell me with a smile that you are a 'good man,' tell me, do I trust a thief to give me an accurate assessment of his character? And has there ever been a thief that has ever been 'good?'
"I'm just a person, I'm flawed.. the bills have been pouring in, my wife is sick again, and our healthcare coverage won't.."
"So it's MY fault. I'm to blame for not giving you a proper Insurance plan?"
"No, no.. I didn't mean that at all! You are more than generous ma'am."
Katrina glares at him.
"I"m merely saying that I'm a desperate man that forget who I am. I'm ashamed that I can not provide for my family. I've got no one to blame but myself.. I have made some very bad, bad decisions. But if I am in jail, no one will be able to provide for my daughter, and my wife has no family of her own. [he gets down on his knees, his eyes begin to tear up]. I must beg you, please accept the money back, please accept whatever interest you and your husband think is appropriate.
Katrina relaxes and considers.. there is something he could do to make it up to her. If he will agree, of course.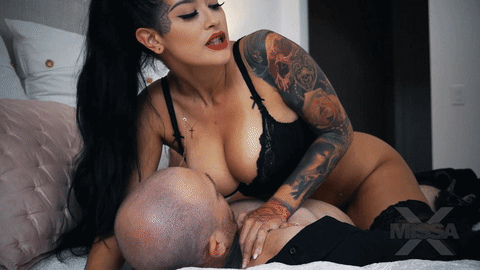 Tags: blowjob cowgirl riding missionary dirty.talk choking cum.begging creampie



Add to favorites