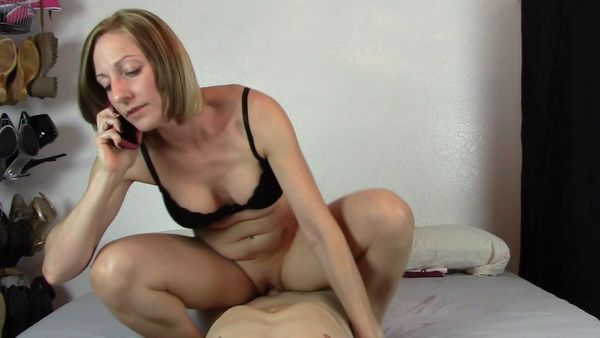 A smoking hot MILF wearing only a bra is lying on her bed and is on the phone with her friend. She is talking about how horny she is and she is also holding a glass dildo.
As she talks she starts to stuff the glass dildo up her pussy. Her husband then calls in and she starts to talk to him. After she goes back to her friend she tells her how her husband now checks her pussy as he thinks she is cheating on him. So, she uses the glass dildo, but it is not enough.
This hot mommy hangs up with her friend and then gets a taboo idea. She calls her son into the room and tells him that she needs a cock and his will have to do. He is not to cum in mommy and must finish on his own when he is ready, but right now mommy wants to fuck.
He climbs on the bed and the two start the taboo fucking in spoon position. Mommy spends the time enjoying her son's cock, but also on the phone again with her friend and her husband. Of course she tells her son he needs to be quiet.
When mommy is off the phone she has her son fuck her with him on top. Again, as he pumps mommy's pussy, she talks on the phone. She then asks to be fucked in doggystyle.
In his POV he fucks his mommy in doggystyle. She continues to remind him not to cum in her and then talks more on the phone. Finally, mommy wants to ride her son.
As mommy rides him she again talks to her friend. However, the conversation is cut short when he pumps a huge cumshot deep indie his mommy. She is very angry and sends him to his room.
Mommy is too tired to clean up and fears she doesn't have enough time. Her husband will be home soon and she will be in trouble as the creampie is shown dripping out of her cunt. Her friend then calls and after talking for a bit she gets an idea. She will use the dildo to put inside her and if her husband asks about the cum she will claim it is her own.
She shoves the dildo in deep and then rests. When her husband comes home he will have no clue that she just had taboo sex with her son.
Included in this clip: Taboo, MILF, Mommy and Son, Taboo Fucking, Taboo Sex, Taboo MILF, Doggystyle, Spoon Position, Missionary, POV Doggystyle, Riding, Creampie, Glass Dildo, Bra, Blondes, Bra Fetish, Fucking Mommy


Add to favorites