WHEN JEMMA GETS A NEW GAME FOR HER BIRTHDAY…SHE DECIDES TO PLAY IT WITH HER BIG BROTHER
THIS TWISTED GAME PUTS A SINISTER SPELL ON THE TWO SIBLINGS!!!
JEREMY SUCKS JEMMA'S FEET, AND EATS HER PUSSY…
JEMMA SUCKS JEREMY UNTIL HE CUMS IN HER MOUTH…
THEN THEY HAVE A FUCKFEST WITH HIS GIANT COCK POUNDING HER TINY CUNT!!!
THIS IS NOT A SCENE TO MISS….THIS IS THE HOTTEST SCENE YOU CAN IMAGINE!!!
Jemma gets a new Game for her Birthday. It was a Present from her Mom. It's a board Game called "Taboo". Jemma has no idea what kind of Game it is….but she is anxious to try it out. She calls her girlfriend, Jennifer, and invites Jennifer over to play. Unfortunately, Jenn can't make it…..so, reluctantly…..Jemma calls her big Brother, Jeremy into her bedroom, and invites him to play the Game with her. Jeremy isn't particulary interested in playing a board Game with his baby Sister…. but Jemma talks him into it. The two Siblings begin to play the Game….but soon they realize, that this is one Sinister….Fucked Up Game!!! Jemma draws a card that says that the other player must suck on her feet. Jeremy kisses and sucks his little Sister's feet….which she loves!!! Next, the Game instructs the two players to kiss each other. A brief peck on the cheek turns into a long, sensual, passionate kiss between the Brother and Sister. The Game definitely appears to have a spell over them. Next, Jeremy is instructed to perform oral sex on his Sister!!! This seems extremely "odd" to both…but Mom had always taught them to finish whatever they start…so Jemma peels off her short shorts….and lets Jeremy eat her out!!! After a few minutes of eating his Sister's cunt, Jeremy proclaims "There….I did it….". Jemma rolls next….and she is instructed to reciprocate….by performing oral sex on him. Jemma suck her big Brother's cock….and either she is REALLY good at it…….or, he is very attracted to his baby Sister….(or both)……because he cums in her mouth with no warning!! Jemma screams at him for "Putting his semen in my mouth!!!…." After some bickering, however, the Game continues. Jemma draws the "Taboo Fuckfest Card", which dictates that both players must Fuck each other!!! The two Siblings proceed to Fuck each other Hard!! Tiny Jemma must take her Brother's Massive cock…and take a severe Pounding. Jemma looks like she is in more pain that a Woman giving birth, as the Pounding goes on!!! Jemma finishes the Game by Jerking a secong load out of her big Brother…all over herself! This is one Sinister, Evil Game!!!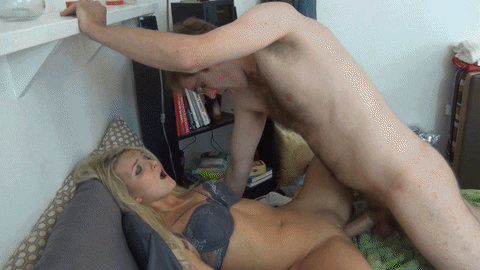 Category: SISTERS
Related Categories: TABOO, 18 & 19 YRS OLD, SISTERS, FUCKING, GAMES
Keywords: short shorts, blondes, handjobs, cum in mouth, taboo, sisters, fucking, blondes


Add to favorites