Sasha Zima – Petite Wife Fucked Hard


Wedded couple Sasha and Peter have a perfect marriage: Sasha likes to fuck big dicks, and Peter likes to watch her do it. They've asked porn producer Giorgio set something up, and the randy Italian has everything ready. Sasha slowly removes her clothing with Giorgio's encouragement, and then in comes what the mature tart has been waiting for: a guy with a huge erection. Peter admits he's envious of the stud's enormous dick as his wife starts sucking on it. She works her lips all over the massive thing, and then turns around to offer her moist cunt to the obliging stud. He slams his stiff staff into her twitching twat and pounds it in and out with reckless abandon as the hapless husband looks on in awe. The slut get fucked on her knees on the sofa, and then the well-hung dude sits down, and Sasha rides his massive sausage in reverse cowgirl position. She turns around and continues to get her wet coozie reamed out cowgirl style and then lays on her back with her head in Peter's lap while the big-dicked stud pump-fucks her pulsing pussy the missionary way. For the climax, the stud jacks his jizz into Sasha open mouth, and she swallows it while taking care to make sure hubby can see. "Happy Wife, Happy Life" Giorgio reminds us as the scene ends.
Ani Black Fox – Housewife Ani is Sodomized


Ani brings her significant other to a porn set where she will get it on with a black guy. She is eager and she strips off her clothes and shows off her body. The actor sitting on the sofa gets out his dick for her to suck. She then gets on her knees and he stands up to shovel it into her mouth. Once she is really excited she pushes him back onto the sofa, straddles him and forces her pussy to stretch around his hard, thick cock. She rides him with enthusiasm and then it's time to have it in her ass. This comes with a little adjustment because she is not used to having big cocks in her ass. But never the less the guy bangs her ass as her husband watches.
Mira Cuckold – Housewife Mira & Black Dick


Married couple Mira and Bill are a little bit different from your average man and wife because Bill likes to watch Mira fuck other guys. In fact, Bill's a dedicated cuckold, and he's proud of it! Giorgio interviews the pair at his porn studio before bringing in black Franco to do the honors. Bill takes a comfortable seat for spectating, and Mira gets on her knees to loosen Franco's pants and start sucking on his huge cock. She works her lips over the massive meat before she straddles the still-standing Franco and takes his stiff salami in her moist pussy as he holds her up off the ground. Then Franco sits down on the sofa, and Mira hops on top of his big ramrod for some energetic reverse cowgirl fucking. She turns around into cowgirl position and continues to bounce up and down on the big, black shaft as hubby Bill manoeuvers himself to get a better view. Then Mira gets on all fours and takes the giant tool deep in her throbbing quim doggie style while Bill holds her hand like the good husband that he is. Finally, Mira lies back with her head in Bill's lap as Franco stuffs his big, ebony fuck-stick back up her wet slit in missionary position. He jacks off onto Mira's tongue and chin, and her husband smiles and thanks Franco and Giorgio for a really rewarding evening.

Lina Arian – Arian is Showing Off

Dominica Phoenix – Go Down On Me Now

Tina Kay – Coming in from Behind


Paul likes to watch his new wife Tina fuck on video, but now she wants to fuck a stranger right in front of him for real. Paul's not in favor of it, but Tina's convinced that, deep down, Paul wants it to happen. The talkative tart does a strip tease for the viewers' benefit and takes right to sucking the stud's big cock when he enters stage left. She gives the guy a consummate blowjob, using her hand and throat in coordinated pumping that has the dude on pins and needles as Tina's husband morosely looks on. Then the wanton wife gets on all fours and takes the stud's sizeable salami in her moist cunt from behind for some hard-driving pussy penetration the doggie way. She writhes with joy as the hard shaft plumbs the depths of her sensitive twat and shifts herself into reverse cowgirl so she can make it plunge in even further. Tina turns around and continues the frenzied copulation cowgirl style while looking her disconsolate husband right in the eye. The poor slob is watching his newlywed wife get railed by some guy neither of them has ever met, and she's absolutely loving it! Next she lays her head in hubby's lap and takes the thick ramrod back up her spasming quim as she holds her loser spouse by the hand! The fat-dicked dude can't hold out any longer, so he pulls out of Tina's sloppy snatch and jacks off into her face. The slut enthusiastically shows Paul the cum in her mouth and swallows it, and she thanks him for letting her have such a good time.
July Sun – Spreading Her Legs


Slim 'n' sexy July has brought both her older husband and her younger lover to Giorgio's studio today. Husband Paul likes to watch, it seems, so she's going to fuck the other guy while Giorgio gets it all on video. July disrobes for the camera, and then she pulls her stud's big cock out of his pants so she can start sucking on it. The guy pumps his massive meat in and out of the unfaithful slut's wet mouth and makes good use of her lips and throat for his sexual gratification. July then lays back with her head in Paul's lap while the youthful dude slurps on her tasty, moist twat. Hubby gets an eyeful as the guy licks her clitoris and labia, and probes the inside of her creamy cunt with his tongue. Next the stud stuffs his hard schlong up July's well-prepared coozie and fucks the mature tart's cunt good and hard as her husband continues to look on impassively. Then the lover sits on the sofa next to Paul, and the carnal wench climbs up on top of the stiff sausage so she can ride it deep in reverse cowgirl position. The guy fucks July's sloppy quim with rapid strokes as Paul stares at the lustful spectacle. The horny MILF next gets on all fours, her head again in Paul's lap, and takes the young dude's thick ramrod back up her quivering slot once more doggie style before he yanks out and jacks off into July's open mouth. She swallows and cleans up the messy, spent dick as her husband watches, and, before you know it, she's already talking about fucking one of her other lovers!
Irina Pavlova – Drilled by Another Man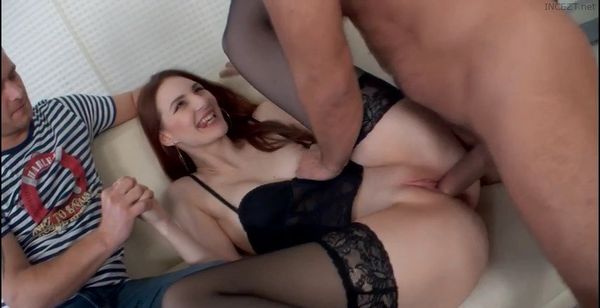 Brittany Lawrence – His Wife Loves Anal


Brittany's tired of her husband Thomas fucking all her prettiest girlfriends, so she's decided to get even by fucking a black guy and making Thomas watch the whole thing. She's dragged Thomas along to Giorgio's studio, and, after interviewing the couple, Giorgio brings in black Mike. Brittany gets down on her knees and starts sucking the guy's ebony cock as Thomas is relegated to being a spectator. Mike lays back on a futon, and Brittany climbs aboard so she can take the dark dick in her wet pussy and ride it in cowgirl position. Then Brittany bends over onto Thomas's lap as the black stud rams his stiff pecker back up her sloppy twat and then shifts it into her tight, clenching asshole. He sodomizes her doggie style, pausing to gape her and make her so a little ass-to-mouth, and then flips the slutty wife onto her back as he continues to probe her cunt and ass with his feverish fuck-pole. Finally, Mike puts Brittany back on her knees and jacks off onto her tongue. She shows her husband the cum on her face as Mike thanks Thomas for letting him fuck his white wife.
Vinna Reed – Housewife Plugged


Long haired blonde Vinna likes fucking other guys in front of her husband, but hubby's not so thrilled about it. She says she doesn't care, though, so it's off to the races when porn producer Giorgio's assistant starts kissing on and groping Vinna. The dude's big dick soon makes its appearance, and Vinna can hardly wait to get the engorged organ into her salivating mouth. She sucks on the tumescent tool as her hapless husband looks on and then lays back with her head in her spouse's lap as the stud applies a thorough licking to her tasty quim. Then the stranger pushes his stiff cock into her moist pussy and proceeds to pound his meat in and out rapidly as Vinna's husband stares at the spectacle. Next, the over-sexed assistant sits on the sofa next to hubby and the willful wife climbs on top of the guy's stiff schlong so she can ride reverse cowgirl style. The guy pounds Vinna's creamy cunt hard and then bends her over so her head is again in her husband's lap and slams his swollen prick right back up her wet twat. He bangs away at the tawdry tart's slit in doggie position before deciding he's ready to cum and jacking himself off onto her tongue. Vinna blows spermy kisses to her spouse as he as gawks as her uncomprehendingly, and our little tale comes to an end.


Add to favorites