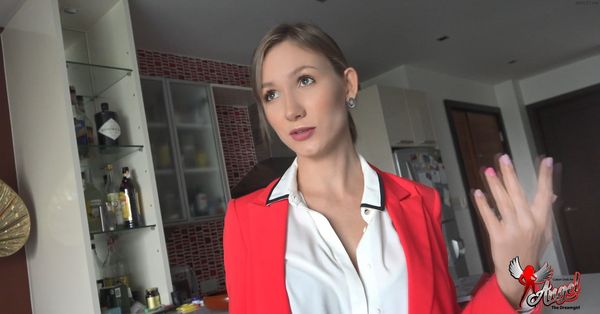 You play a sophisticated (But accident Prone) Lawyer who has come in to discuss taking on a case with the POV. She is very smartly dressed in a skirt suit, blouse wide belt stockings and heels her hair is in a bun or a low ponytail. She carries a briefcase which she sets down a tittle way away. she sits across a breakfast counter or table, preferably a high chair. As she does so her wide belt falls onto the floor.
The POV is fascinated by this woman, she gets up to get a document from her briefcase. Her skirt is undone and it falls to her ankles unnoticed, she bends over to look in her case, she then steps out of the skirt and walks away back to her seat. The POV gets up to get something and kicks the skirt out of sight and admires her legs whilst she looks at the document.
Slowly her jacket and her blouse come undone as she refers to paragraphs in the document. both items start to fall off.
She is sat opposite the POV now in her underwear. she gets up to get another document and the POV hides her jacket and blouse. she walks back smiling.
As she sits somehow she manages to accidentally pull her panties down and we see them fall to her ankles and off her heels. Her Bra then comes undone and falls off as she shows us another document.
The POV agrees to use her and she gets up revealing her nudity except for her stockings and heels she gets her case… pauses looks down realises she is naked tries to cover up and hide behind her case… she faints and the POV takes in her naked form.
She comes to, waking up alone on the sofa dressed in her jacket and skirt, she is relieved and thinks it was a dream… she picks up her briefcase walks towards the door realising her shoes and stockings are missing… and her blouse! her skirt that was never done up falls down and she realises her underwear is gone! she runs to the door leaving her skirt on the floor hiding with her briefcase.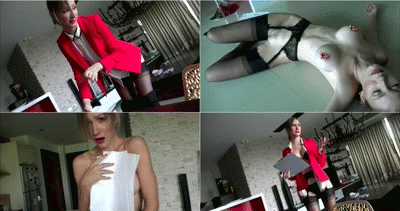 Category: EMBARRASSED NAKED FEMALE
Related Categories: DAMSEL IN DISTRESS SHOE FETISH POV GARTER & STOCKINGS EMBARRASSMENT
Keywords: custom clip shoes walking down jacket fashioned stockings down blouse naked vintage stockings high heels ff stockings nylon legs


Add to favorites