Averie Moore was excited to say at her aunt's house, and so was her uncle. Averie had blossomed into a beautiful young lady, and her uncle could not help but admire her, especially when she forgot to wear panties at the breakfast table. Just after the meal he was asked by his wife to help Averie settle in.
He went and grabbed her bag from the car and just before he got it into her room it spilled all over the place. While putting everything back in he noticed a soft hot pair of Averie's panties. He needed to take a sniff. Just as his cock got hard from the scent, he got caught by Averie! She thought it was her fault for not wearing panties, but uncle insisted she had nothing to worry about except letting him get another look at those sweet lips.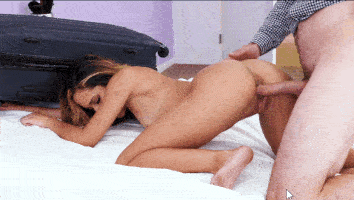 He even asked if he could touch it, then Averie also became curious. She began to suck his lengthy cock and even let him own her tight teen pussy on the bed. Just as he got his nut off onto Averie's face, auntie came in looking for her. He quickly used the suitcase to block her vision and when it came to whether he had seen her, he responded with not recently. The ultimate excuse!
Sexual acts performed: exhibitionism, blowjob, handjob, spooning sex, missionary sex, doggy style sex, cowgirl sex, reverse cowgirl sex, facial.



Add to favorites