Scene One: Depraved Family Practice
Michele and Addison walk into the house, Addison is bubbly, laughing, happy. Michelle is somber. Addison says, "I'm so glad to be spending the summer with you. It's so nice of your parents to let me stay here." Michele's only response is, "I guess. But my mom isn't nice. She's a bitch." As she says this she pulls out her collar and puts it on. Addison looks at her strangely. She asks, "How come you always put that collar on when we get home?" "I don't know, no reason." Michele pauses. "I just like it, I guess."
Addison tells her she's going to the bathroom. Michele stands there, her empty eyes surveying the living room. Dad comes up behind her and gropes her tits. "Is my baby having fun with her cousin?" He starts kissing her. "Dad, not now. She's going to see." "You don't say no to me. Take your fucking clothes off and turn around."
Michelle stands there dejected for a moment, and then does as her father tells her. She takes her clothes off and turns around. Dad bends her over and starts to fuck her. Michele stares straight ahead and takes it. After a few minutes Addison comes back and sees her Uncle Luke fucking Michele. She's horrified. She hides around the corner and watches.
Dad starts to pound Michele harder. Addison can't take her eyes off them. "This is so fucking wrong," she thinks… The depravity of the scene turns her on. She starts to rub her pussy through her shorts. Aunt Cory comes up behind her. "What are you doing?" Addison is ashamed, "Nothing" she responds. Cory looks at Dad fucking Michele. She then looks at Addison, "Better her than me. Go to your room." She grabs Addison's arm. "And don't say anything to anyone."
Cory looks at the scene again, smirks and walks off. Dad finishes on Michele's face. She hates cum so much, but she's learn to bear the degradation. She goes back to her room, her face still covered in cum. Addison is sitting on the bed. She looks at Michele horrified and asks, "What was that? Why was your dad doing that?" Michele starts to clean herself, "That was my dad using me to get off. Because of my whore mother." Addison just looks at her cousin, her eyes filled with horror.
Scene Two: Niece's Stolen Innocence
Addison is getting ready to shower. She preps herself for a few seconds. Uncle Luke walks in, startling Addison. She drops her towel and tries to cover herself up with her arms. Uncle Luke says, "You don't have to do that. We're all family here." Addison keeps covering herself, "It's just weird with you seeing me."
Luke pulls her arms away. "I said it's okay." Addison protests and starts to pull away. Luke starts to touch her. He grabs her pussy, causing her to yelp. "You ever have a man touch your pussy, or just little boys?"
She starts to yelp. "Please. I don't want it." "Doesn't matter what you want. You're just a piece of fuckmeat." Luke roughly turns her around. He spanks her and squeezes her ass. "A gorgeous piece of fuckmeat." Addison's distress grows. She knows she can't stop what's about to happen.
Luke puts her down to her knees. He facefucks her. Luke begins to verbally humiliate her. Telling her she's going to be his new bimbo. That this is her life's purpose from now on.
Michele is walking by the bedroom. She can hear her Dad fucking and degrading his new victim. She smiles.
Scene cut backs to the bedroom. Uncle Luke fucking Addison until he's done. This is her world now, and she knows it. Luke leaves the bedroom. She sits with her arms wrapped around her knees, sobbing.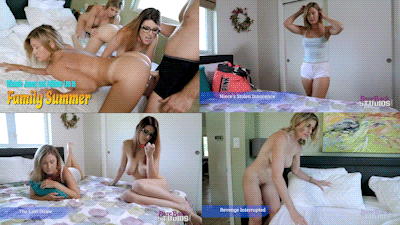 Scene Three: The Last Straw
Michele and Addison in the bedroom. Michelle is naked, with her collar on. Addison is clothed. Addison, concerned, says, "Michele, I don't want him to touch me again." Michele doesn't look at her. "You can't stop him. If you do what he tells you to, it goes faster." Dad walks in and looks at them. "Well at least one of you knows what to do." He sits down and tells Michele, "Come here you little cum bucket."
Michele starts to suck him off. Addison looks on petrified. Cory peeks in through the doorway. Relieved her husband has so many distractions she walks away. Luke pushes Michele away and gets up and stands close to Addison intimidatingly. Meek and afraid she cowers. "I don't think you've learned your place yet", says Luke. He pushes her onto the bed and rips her clothes off. She yelps. Luke fucks her sweet pussy. Michele helps him by keeping her cousin pinned to the bed. She occasionally lovingly caresses her cousin's face and hair.
When Luke switches to doggiestyle Michele spreads her cousin's ass to give him a better view. Luke continues to fuck the two girls. When he's done he cums on their faces. Finished with his cum buckets, he leaves them.
Moments later…girls sitting by the bed on the floor. Cum still dripping from their faces. "This is fucking disgusting. What are we going to do?" Asks Addison, in despair. "We're going to get revenge," is all Michele says.
Scene Four: Revenge Interrupted
Mom is putting linens on a bed. The girls walk in. Cory looks at them, "What do you girls want? I'm not in the mood for any of your bullshit." Michele puts a strap-on dildo on the bed. Cory looks at it fearfully. "What the fuck is this?" She demands. Addison pushes her aunt onto the bed and the girls attack her, and remove her clothes while she screams. "Please, please! Not you too! It was supposed to stop! You stupid bitches." Cory begs.
While one girl holds Cory down the other fucks her with the strap-on. They take turns. Laughing, they degrade Cory. Michele calls her a whore-mother, a cumslut, a fucking piece of trash. Cory, trapped, disassociates completely. She can't take the abuse anymore. Addison climbs on her and sits on her face, using Cory's mouth to pleasure her pussy. Addison says, "If you're going to be a cunt, you might as well suck on one."
After a few minutes Luke walks in and surveys the scene. He throws a bottle to the floor, causing the girls to quickly stop and scramble to their feet. Cory slowly gets up off the bed. The three of them look at Luke. Luke walks to Cory grabs her and pushes her aside. "Stand there and watch what I'm going to do to the girls you're supposed to protect, you fucking worthless whore."
He turns to the girls. He starts to use Addison and Michele, spanking them, humiliating them for being the whores they are. He tells them that Cory is his property. They're never to touch her again. The girls hate this fucking turned lecture. Their one outlet taken from them. Luke uses them like lifeless meat. He doesn't care about their pleasure, or their pain. When he's done he cums into Michele's mouth with glee…
Satisfied Luke leaves the room. Mom is left standing in the Corner to ponder the new hell she is living in…
Category: TABOO
Related Categories: THREESOMES MILF
Keywords: michele james addison lee luke longly taboo mother cumshot cum swallow fantasy cum swallow cory chase blowjob fucking big tits threesome frozen


Add to favorites