***Screw My Wife Please***
This morning I woke up and I was so horny for TC's cock again that I begged Tommy to call him for me and tell him to come over to our hotel room so I could fuck him again. So Tommy called TC and the first thing Tommy said to him was "come over and screw my wife please". About twenty minutes later TC knocks on our door, comes in, walks over to the couch and pulls his hard cock out for me. He knows exactly what I like. So I sit down next to him wearing my sexy lingerie and I start making out with him while I stroke his hard cock. Then Tommy walks out of the bathroom and starts filming us while we flirt and make out. My pussy was getting so wet with him fingering me and I really wanted to sit on his pretty cock and fuck it so I sat on top of him and slid his cock inside my wet pussy and fucked him real slow while I made Tommy watch. Tommy kept telling TC to fuck me good. He loves it when other men come over and screw his wife. I told Tommy how much I loved fucking TCs cock as every inch of it slid inside me. TC sucked on my tits while I rode up and down on his cock until it made me cum. Then I took his cock out of my pussy and shoved it in my mouth. I continued sucking and stroking his cock until he couldn't take it any longer so he stood up and shot his big load right in my mouth. I love eating his cum. Then we got up and got ready to leave and Tommy thanked him for coming over to fuck me again! I love it when he calls other guys for me and has them come over and fuck me! I got the best husband ever!
Category: CUCKOLDING
Related Categories: MILF, PANTYHOSE/STOCKINGS, OLDER WOMAN / YOUNGER MAN, CUM SWALLOWERS, BIG TITS

Today one of my regular clients came over to my hotel to play. He said he wanted to be in one of my videos as well so we turned my video camera on and had some fun. I wore a sexy outfit for him and surprisingly I ended up matching his purple tie! We didn't plan that at all! I started off by slowly getting to know him by kissing and touching him. We then slowly undressed and then I pulled his dick out and started licking and sucking on his balls and dick. Once I got him hard I saw how big his cock was. He had lots of pre-cum dripping the entire time I was touching him. We then went to the bed where I continued to suck and stroke his cock while he fingered me. I got so wet while I was sucking on his hard cock! Sucking a hard cock always drives me so crazy! I teased him for a long time so he would build up a big load for me. I then got on top of him and sat on his face and made him eat my pussy while I sucked on his head. I told him I wanted him to cum for me so I got back on my side and kissed him while I stroked his cock real hard. He said he was going to cum so I opened my mouth while I jerked him off so I could get his cum in my mouth. He had a very big load and he kept shooting his cum out! All that cum, just for me! I really love the taste of cum!
Category: MILF
Related Categories: CUCKOLDING, PANTYHOSE/STOCKINGS, BIG TITS, HANDJOBS, BLOW JOBS

MILF Wants A Creampie HD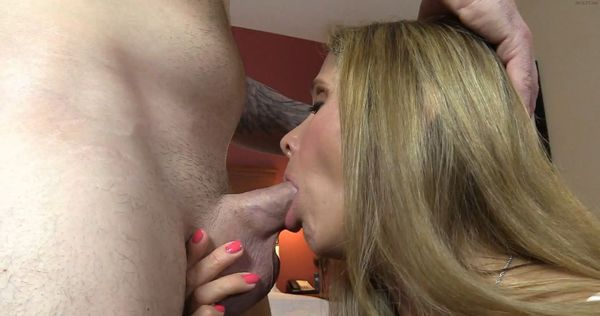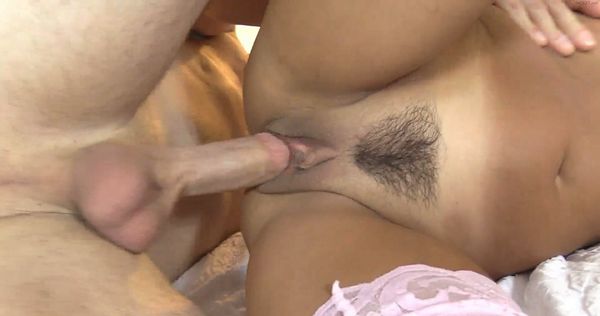 This weekend we went up to Phoenix to visit friends and while we were up there I decided to call TC. I didn't tell my hubby about it I thought it would be better to surprise him that way he couldn't get mad with TC next to me. My hubby had gone out to get us some snacks so when he came back I had TC in the room already. We both came out of the bathroom and he was a bit surprised but not too much considering my track record for always doing naughty things! I then told my hubby I wanted him to watch me fuck TC while he stroked his cock for me. I love to watch him get hard while I'm getting fucked! TC and I were making out and slowly undressing each other. I then pulled out his dick and it was nice and hard for me! I got on my knees and took it in my mouth. I rubbed my tongue up and down his balls up to his shaft and then circled my tongue around his head. The pre-cum was definitely flowing! He then carried me over to the bed and laid me down. I then spread my legs open and he got right in there and started licking me. I forgot how good his tongue felt on my pussy! I then got on top of him and sat right down on his dick. I think he was a bit surprised that I didn't put a cover on. I decided then I didn't want one and wanted to feel his naked dick inside me. It felt so good. I rubbed my clit and came really fast! He then flipped me over and got on top of me and fucked me good and then after a while took me from behind. I could feel his dick deep inside me. It felt so good! I then told him I wanted his cum in my pussy and he didn't hesitate his big load got right in there. There was so much cum dripping out of me! I looked over at my hubby and I could tell he was so excited to see me happy!
Category: CREAMPIE
Related Categories: MILF, BIG TITS, CUCKOLDING, OLDER WOMAN / YOUNGER MAN, PANTYHOSE/STOCKINGS



Add to favorites