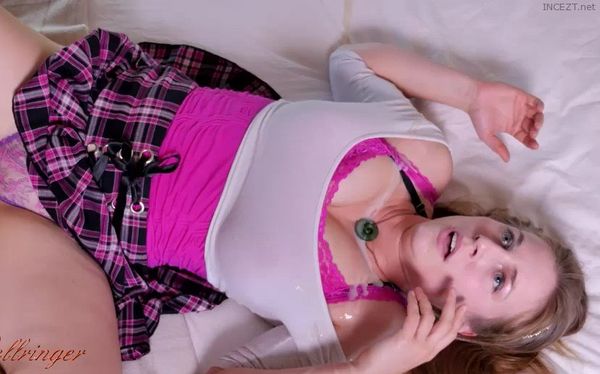 Was she actually giving you the time of day? The girl of your dreams, the one you thought of whenever you touched your cock was flirting with you?? She was just asking your opinion on a new necklace… but there was something about the way she flipped her hair or bit her lip, your heart raced. Her heaving bosom made your cock stiffen, and that necklace was the perfect excuse to stare at her juicy cleavage. You felt so… uncontrollably aroused.
Even when she suddenly confronted you about the rumors you spread around school, you could barely keep your cock in your pants. Just hearing her talk about wrapping her perfect lips around your shaft was almost too much, despite her disgusted tone. You were speechless… and completely lustful. And she noticed. Her scowl turned to a wicked smirk as she fingered her necklace. She was taking revenge on you, for ruining her reputation at school. The necklace… it gave anyone who looked upon it an insatiable sexual fever. And she intended to take advantage of that.
Legs spreading, she lifted her skirt to reveal a lacy pair of panties and teased that you'd never get to taste the pussy behind it. She giggled, caressing her milky white thighs. You were to remain tortured in this lustful state, until she was satisfied. You brandished your phone and took a number of pictures before she snatched it from you, and ran upstairs in a huff to delete the evidence.
You followed, and watched her through the crack of the door. She was staring at the phone… at a picture of herself when her hand traveled down between her legs, and up under her skirt. She was masturbating! You took your swollen cock out of your pants and stroked, witnessing the necklace take hold of its next victim. That is, until she saw you behind the door, furiously masturbating.
But instead of chastising you… she breathlessly demanded you come in and masturbate with her! The heavy breathing, weak whimpering, and her extreme sexual desperation were turning you on beyond belief. You wouldn't last long, so she demanded that you cum on the necklace… it would be the only way to release you both from this spell!


Fantasy includes: brat, tease and denial, confrontation, erotic magic, female masturbation, masturbation encouragement, desperation, fake cumshot, cleavage, panty fetish, school girl, pov
Category: EROTIC MAGIC
Related Categories: TEASE & DENIAL, ORGASMS, CUMSHOTS, MASTURBATION ENCOURAGEMENT, BRAT GIRLS
Keywords: xxx, porn, xev bellringer, bratty, tease and denial, masturbation, panty fetish, school girl, magic, transformation, horny slut, desperation, cleavage, pussy rubbing, orgasms



Add to favorites