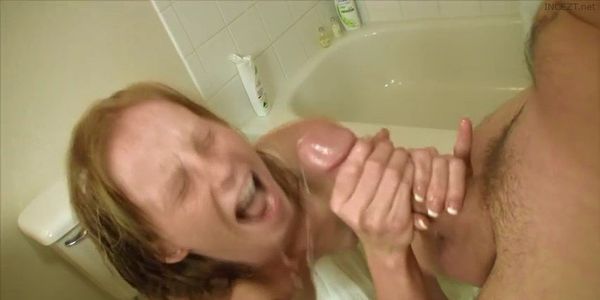 Gagging she tries to put his thick cock in her small mouth but barely gets a couple inches in. Alyssa has no idea how excited her older brother was to have her suck his dick until he blew a load so hard it shot past her head and hit the wall.
My brother was so excited he shot a huge stream past my head and hit the wall.
Alyssa's brother is a perverted fuck who likes to watch his younger sister naked when she's not looking. He sneaks into the bathroom surprises her in the shower. "What the hell are you doing in here?" she shouts. He tells her he needed his razor and didn't even look at her. "Bullshit you were staring at me.." she says half laughing. Alyssa threatens her brother to tell their mom about him coming in the bathroom. He begs her not to say anything because he needs to borrow the car and doesn't want to get in trouble. "Well maybe you can help me with something…" she tells him with a smirk. Alyssa explains that she has never given a blowjob and her boyfriend has been asking her to blow him. "So I'm going to practice on you" she tells him grabbing his cock.
Gagging she tries to put his thick dick in her small mouth but barely gets a couple inches in. Alyssa tells her brother she doesn't think her boyfriend is as big as he is. She tries to shove more in her mouth while jerking him with her hands. Her cheeks pop out as her brother thrusts his cock in and out. She finally gives up and tells him she'll milk him until he cums. Alyssa had no idea how excited her older brother was to have her suck his dick until he blew a load so hard it shot past her head and hit the wall. She jumps back to dodge the huge stream giving him a What the Fuck look. "You're lucky it didn't hit my face…" she complained. He laughed and told her she was the lucky one….
Category: SISTERS
Related Categories: TABOO, BIG LOADS, 18 & 19 YRS OLD, HANDJOBS, BLOW JOBS Keywords: alyssa hart




Add to favorites